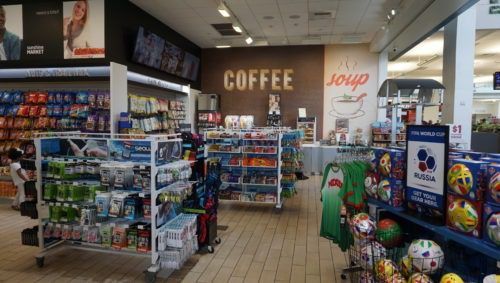 Whether you are heading North or South on the Florida Turnpike a service plaza is a welcome break for any driver and their passengers. There are 8 service stops on the Florida Turnpike from Snapper Creek in the South to Okahumpka in the North.  We recently visited Fort Drum Service Plaza, which is 185 miles into the Florida Turnpike, when traveling South to North.
Where?
The Fort Drum Service Plaza is located in Okeechobee, very close to exit 193 – Yeehaw Junction. It's an ideal location for those traveling south to Port St. Lucia and Palm Beach and Orlando for those heading North.
Why stop at a service plaza?
One of the main reasons is stopped at a service station is for fuel. Unleaded, diesel and E-85 are all available at this service plaza. So, if your petrol light starts glowing when you're on the highway, pull in and refill the tank.
Another excellent reason to take a break is simply to rest. The Centers for Disease Control and Prevention (CDC) believe that driver fatigue is responsible for a minimum of 72,000 crashes and 800 deaths in the USA in 2013. So, if you start driving into the rumble strip, yawning or can't remember the previous few miles of driving, take a break. The most dangerous times to drive, are obviously through the night and, surprisingly between 2 pm and 4 pm, after a heavy lunch. Be careful!
Perhaps, the main reason to visit a service plaza is for a bathroom break. Like all service stations along the Florida Turnpike, Fort Drum offers clean toilet facilities. They all have wheelchair access.
Places to Eat at Fort Drum Service Plaza
There are 8 eateries on site to fulfill the stomach needs of your whole family. For a hearty British dish of fish n chips visit Arthur Treacher's, or stay in the American spirit with some fried chicken and fries at KFC. If you are fancy a pizza you can sit down at Villa Pizza. Alternatively, order a hot dog at Nathan's. But if you have a hankering for a lite bite, like a sandwich, select something off the menu at the Earl of Sandwich. When each member of your family fancies something different then visit Wendy's, as their menu has the most varied choices.
When all you need is a quick snack, like a donut, ice cream or a cup of coffee visit Baskin Robbins or Dunkin' Donuts.
Other Services Available
As well as toilet facilities, at the Fort Drum Service Plaza, there is also an information desk, which can give you some great ideas about local attractions and brochures for information. Also, there is a kiosk for discounted attraction tickets.
Avoid searching for an ATM at your final destination, which can waste valuable time on your holiday and cause unnecessary anxiety, so instead use the ATM at the service plaza.
At Fort Drum Service Plaza there is also a picnic area. So, if you don't want to be cooped up inside, head over to the picnic area for some fresh air. You can stretch your legs, while you enjoy a welcomed driving break.
The other service plazas along the Florida Turnpike are Okahumpka, Turkey Lake, Canoe Creek, Fort Pierce, West Palm Beach, Pompano Beach and Snapper Creek. They offer similar services to the Fort Drum Plaza, so wherever you choose to stop on your journey you'll know what to expect before taking the services exit off the turnpike.
Further Reading: