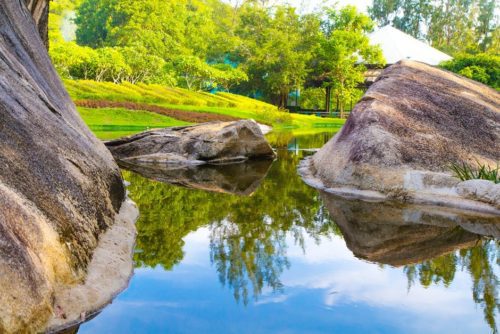 Tallahassee International Airport is only 35 minutes from the city center. Tallahassee has become a great location to spend the weekend, due to its many direct flights, outdoor living, and vibrant year-round atmosphere. You can catch a direct flight from multiple cities, like Orlando, Miami, Tampa and Washington D.C. So, what are you waiting for?
When to visit
Its location in the Northwest of Florida makes Tallahassee's weather ideal for a visit any time of the year. As a result, the price of flights and hotels never dips or increases to unaffordable heights. Having said that, the best time to visit can depend on whether you want to attend a particular event, like a football game, your desired holiday wardrobe and your feeling towards crowds.
To avoid the crowds and experience the city in a comfy pair of jeans, visit in mid-Spring or mid-Fall. Children are back at school, so the city is inhabitant by the residents, not families on vacation. But if you want to be in the middle of all the action visit during the football season, specifically a football weekend, as this is when the city really comes alive. The season starts at the end of August. If you are new to the sport, watching an American Football game can be a great experience. So find out when Florida State University plays here.
Tallahassee Highlights
With only a couple of days to explore the city of Tallahassee you need to plan your time and remain organized so you don't miss out on the best of Tallahassee. Whatever you choose to do make sure the following items appear on your travel itinerary.
Enjoy the Outdoors
Did you know that Florida's capital has the nickname Trailahassee? Maybe not, but I bet you can guess where the name originates. The city has over 500 miles of marked paths, trails and pools, ideal for running, biking, hiking, paddling and so much more. So, if you love the great outdoors, bring your sneakers and discover the wilderness of Tallahassee. Notable, green locations include Apalachee Regional Park, Elinor Klapp-Phipps Park, and Lafayette Heritage Trail.
If you want to find a specific adventure visit Trailahassee. They have a huge database of the routes, which you can filter down to suit your ability level, preferred surface, and activity.
Keep Reading: Other places to visit in Tallahassee, Florida.
Music Lover
The fantastic outdoor venue, Capital City Amphitheatre, is an absolute must when creating your itinerary, especially if you are a music lover. This modern meeting place stands on the ground that was a popular meeting point during the early 19th century. Experiencing a concert here is fabulous, because it has great views of the city, an electric atmosphere and showcases local musical treats as well as national favorites.
Museum Madness
A great way to learn about the history and culture of any city is to visit their museums. Tallahassee has some attractions and museums that will not disappoint. A few hours here and there and you can be thoroughly entertained and come away full of knowledge. The top museums to visit are:
The Tallahassee Museum: The funniest museum is surprisingly located outside the city center. There you can explore 52 acres of nature trails, scream down a zip line, complete an aerial adventure course and see some stunning historical buildings.
Tallahassee Automobile and Collectibles Museum: Try something a little different and enjoy the aesthetics of some famous cars from film and history.
Knott House Museum: Navigate around the house and grounds that played a significant part in the Panhandle and Civil War.
Where to Stay
There are a plethora of superb hotels in and around the city, suitable for every budget. If you choose to take a road trip to Tallahassee, as opposed to flying, there is no need to worry about parking, as many hotels have this facility available.
To benefit from exclusive discounts and loyalty programmes, we suggest booking directly with the hotels.
Related Article: Benefits of Booking Directly with Hotels
It doesn't matter when you choose to explore this fantastic city, as long as you visit. Share your Tallahassee highlight with us on Twitter with @FloridaEscape.