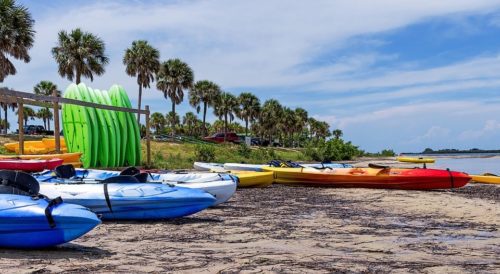 Who doesn't love a good paddle? Kayaking is a great activity for individuals, couples and families. Spending the day or a long weekend kayaking in Central Florida is magical. Not only do you get exercise at a pace you are comfortable with, you also get to be in the beautiful natural World of the Sunshine State.
The amazing weather of Florida means that there are plenty of months available to start or continue your passion for kayaking. But where are the best places to go? Here are the top kayaking spots in Central Florida.
Weeki Wachee Springs State Park
Along the east coast of Florida, you can kayak and paddleboard within the beautiful Weeki Wachee Springs State Park. You can hire your equipment if needed, or schedule a private launch. Either way, you have to reserve in advance.
A single kayak and a paddle board cost $40, which also includes a life jacket and a shuttle pickup upon completion. Your rental time is 4 hours from time of reservation, so don't be late. For an additional $10 you can hire a double kayak for the same amount of time. All paddlers must be over the age of 12.
Relax on the Waters of Hillsbourgh River State Park
One of the best places in Central Florida to kayak is Hillsborough River State Park. With a 50-mile river and great scenic views, it's a lovely place to paddle. This the ideal park to spend a long weekend or even a week, as they have multiple camping grounds with good facilities, and its close to Tampa.
You can hire a kayak for $15 an hour +tax, for a minimum of 2 hours. There are also canoe rentals available.
Kayaking in Dunnellon
In Dunnellon, you can hire kayaks from Rainbow River Canoe and Kayak. Prices range from $35 to $52, depending on whether you want a single or tandem kayak or a canoe and which river you wish to paddle. The options available are Rainbow River, which is a 4.5-mile course and takes 2-3 hours or the 9 mile course of Withlacoochee River. If you want an adventure choice the latter. But for a relaxing paddle on a crystal-clear stream select Rainbow River, which is a great adventure for the whole family.
Grab a Paddle in Silver Springs
If you want to learn how to paddle then this may be the location for you. Silver Springs Kayaking provide an instruction class for kayaking newbies, before your trip truly begins. The tour leaves at 9:30am and travels at a pace that allows you to admire the surroundings and take photos.
They have two tours available. For a short trip take the Springs Tour, which is $40 per person + tax. But for an adventure that includes seeing monkey's and manatees book yourself on to the Jungle Tour. This tour costs $65 per person + tax.
Explore Ocala National Forest
If you are looking for a longer kayaking trip then choose Ocala National Forest because it has 2 rivers, 600 lakes and ponds, plus several streams. Due to its size and popularity there are many local boat rental businesses. If you want to leave the modern world behind and escape the everyday pressures of life then visit Ocala National Forest to 'get lost' in nature.
Take a Kayaking Tour in Apopka
What makes the Apopka a great place to paddle are the crystal-clear waters. Rental company Get Up and Go Kayaking take full advantage of this with their 100% see through boats. So, not only can you look at the surrounding trees and wildlife, you can also look down and watch the fish swimming along beside and under you.
Tours are Rock Springs Tour ($49), Winter Park Tour ($45) and Bioluminescent Tour ($60). All tours include a guide.
Which location in Central Florida takes your fancy? No matter where you visit, you are going to have some fun on water. Plus, you will see some interesting wildlife and lovely scenic views.
Keep Calm and Paddle On!