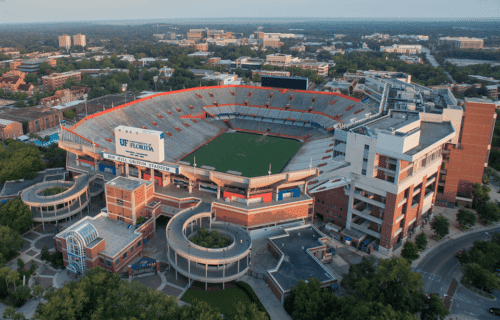 The largest city in Alachua County, Florida is an excellent place for fun and outdoor adventure, as it is surrounded by great natural beauty. That place is the university town of Gainesville. Do you know it?
Gainesville can be accessed via direct flights from Charlotte and Atlanta. Alternatively, it is within driving distance of Orlando (113 miles) and Jacksonville (70 miles). So, there is nothing holding you back from visiting Gainesville, Florida, except you.
Interested in visiting nearby Jacksonville? Discover more about the city with 11 Free Activities in Jacksonville, Florida, Jacksonville's Restaurant Guide and Touring Jacksonville, Florida.
Once you make it to Gainesville what can you do? Well, plenty! Here's what is happening in the buzzing town of Gainesville, Florida.
Gainesville Food Tour
A great way to get your bearings, discover the history of Gainesville and fill up your belly with delicious food is to do the 3-hour food tour. Each Gainesville Food Tour consists of 3-6 restaurants all offering amazing authentic food options.
Hire a bicycle
Gainesville has 30+ miles of biking and hiking pathways, taking you to places where the natural wildlife is in abundance. Explore Sweetwater Wetlands Park to see native birds, wild horses, and alligators.
Visit Hoggetowne Medieval Faire
Twice a year this medieval market is held at the Alachua County Fairgrounds. As well as artisan stalls there is plenty of entertainment on offer. You can watch a jousting competition, jugglers, acrobatics, knife throwers and a lot more besides. It is a great way to spend the day.
The Cade Museum
To be inspired to visit the Cade Museum which represents creativity and invention. It is named after Dr. J Robert Cade, the inventor of Gatorade. Have you tried it? Located on the outskirts of Depot Park, this museum has many events throughout the year. Check out the Cade Museum Events to see what is on when you arrive in Gainesville.
Water Sports
If you are wanting to canoe or kayak then Gainesville can make your desire a reality. With lots of lakes in the area, you can get out on the water in no time at all. Try Lake Wauheberg, 8 miles south of Gainesville. You can spend hours here floating and relaxing out on the water.
Another great location is Santa Fe River, close to High Springs. This is more scenic than Lake Wauheberg and you can rent a canoe or kayak from the Santa Fe Canoe Outpost. You can organize a launch and a pickup time, making your day on the water organized and less of a hassle.
Wherever you choose to paddle keep an eye out for the local wildlife, which includes turtles, otters, and deer.
See a Show
Gainesville has its very own Hippodrome Theatre, that offers multiple plays and shows throughout the year, as well as other entertaining events. The building itself is interesting as it was once the Federal building. For a list of upcoming events, click here.
Spend the afternoon Downtown
The hip area of Gainesville, Florida is Downtown. Take some time to stroll the neighborhood and admire the colorful wall art, whilst trying some of the craft beers available in the bars.
Watch a game of Football
If your visiting during the fall why not visit the University of Florida and watch an American Football game. Go Gators! Other sports are Baseball in the Spring/Summer and Athletics.
Will you be making a trip to Gainesville, Florida any time soon? We hope so because it's a wonderful place with a lot to offer. Share photos and experience on Twitter with @floridaescape and the hashtag #GainesvilleEscape.