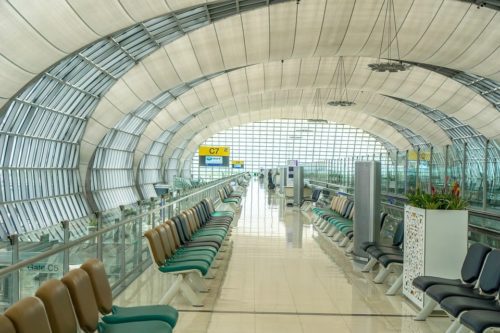 Florida is one of the most popular holiday destinations, probably due to its great weather, beaches, wildlife and theme parks. This beautiful and fun state attracts families, couples, friendship groups and solo travellers, from all over the globe. According to Visit Florida, the top 3 countries of holiday makers come from Canada, United Kingdom and Brazil. Does that include you?
Which airports facilitate the arrival of the 120+ million passengers who visit every year? Here are the top 10 Florida airports, based on the number of passenger arrivals. If you are visiting Florida, you will most likely be landing in one of these airports. Here is what you can expect…
10) Pensacola International Airport (PNS)
At number 10, is the Pensacola International Airport, which sees 1.67 million passengers each year. Which is a lot considering there are only 6 commercial and regional airlines using the airport. The airport is located 3 miles northeast of the central business district of the City of Pensacola, so you be in Pensacola in no time at all.
Due to its size there are limited outlets in the airport. But it does offer a variety of parking options, which range from $6- $11 per day.
>>Read more: The Best Place to Visit in Pensacola, Florida<<
9) St Petersburg/Clearwater International Airport (PIE)
As a smaller airport that facilities the travel of approximately 2 million people each year, St Petersburg/Clearwater International Airport has only 4 delicious establishments open for refreshments. The choices aren't huge but, you won't go hungry while you wait to board.
>>Further reading: Preferred Hotels of St Petersburg, Florida<<
8) Orlando Sanford International Airport (SFB)
The 8th busiest airport in Florida was originally a Naval Air Station, which now operates smoothly for its 2.92 million annual passengers. Orlando Sanford International Airport claims to be 'the most user-friendly airport in Central Florida.' If you have flown here, would you agree?
The airport covers 3,000 acres and has four runways that see more than 300,000 planes landing and taking off each year. So, plane spotting is a great activity while waiting for your own flight, along with visiting the retail stores.
>>Find great hotels near Universal Studios and International Drive. <<
7) Jacksonville International Airport (JAX)
Located only 15 minutes from downtown Jacksonville, JAX is the gateway to the Northeast of Florida. If you are one of the 5.59 million passengers expected to visit Jacksonville International Airport then take some time to relax before you board. The airport provides free Wi-Fi, occasional live music and art throughout the airport.
Visiting Jacksonville? Then you need to read these helpful articles:
6) Palm Beach International Airport (PBI)
Palm Beach International Airport is the 6th busiest airport in Florida with 6.32 million annual passengers. If you fly from here be sure to arrive earlier so that you can take full advantage of the spa facilities. Whether you are returning home or going on to another exciting location you can destress with a massage and manicure or get a quick trim and blow dry to guarantee some amazing selfies.
>>Read more about Palm Beach on Experience the Best Food Tours in Palm Beach Country.<<
5) Southwest Florida International Airport (RSW)
The clean and simple Southwest Florida International Airport serves 8.84 million annual passengers. If you are visiting Fort Myers or the Gulf Coast, then this is likely to be the airport you will land at.  It opened in 1983, and since then had a refurbishment and brand-new terminal built in 2005. It has everything you should need.
4) Tampa International Airport (TPA)
The 4th busiest airport in Florida is located 6 miles west of Downtown Tampa and is making a massive effort to reduce its carbon footprint, water usage and increase its recycling capabilities. If you are one of the 19.62 million people that pass through the airport be sure to take advantage of the water facilities and remember to throw your trash into the correct bins.
There is a store for everything. From having your shoes shined, posting your holiday postcards, getting a massage, buying a souvenir and filling your belly before the flight. Tampa International Airport has everything you can possibly need.
Other articles of interest:
3) Fort Lauderdale/Hollywood International Airport (FLL)
Throughout the 4 terminals of Fort Lauderdale/Hollywood International Airport the 32.51 million visitors of 2017 can experience a range of retail stores and yummy restaurants and bars. It averages 640 daily flights to the US, Europe, Canada, Caribbean, and Latin America, so it is a great portal to Florida.
Before you fly to Fort Lauderdale read 'The Beautiful Sights of Fort Lauderdale, Florida' and '15 Reasons to Stay at The Courtyard Fort Lauderdale Coral Springs.'    
2) Miami International Airport (MIA)
In silver position for the busiest airport in Florida, is Miami International Airport. 44.07 million passengers took flight in 2017. However, it is the winner as the busiest cargo airport in the state. With over 50 airlines operating, it is important to have great facilities for its boarding passengers and Miami doesn't disappoint.
With a 3 hour wait you won't get bored at Miami International Airport. As well as the usual shops and restaurants, you can spend time at the Jetsetter Spa. You can get a 10-minute express manicure, massage and even a spray tan. There is also a MIA gallery to explore and art in public spaces to admire.
Plan the best trip possible to Miami with the following articles:
1) Orlando International Airport (MCO)
The busiest airport of them all, will probably come as no surprise, it is of course the Orlando International Airport. In 2017, it welcomed 44.61 million passengers to the sunshine state, while serving 37 airlines. The airport is conveniently located 22km from Orlando city centre. So, you can be in the amongst the magic in no time at all.
For convenience the airport has an onsite hotel, Hyatt Regency. It also offers a large variety of restaurants and retail shops. They also have permanent art collections dotted around the airport, for you to stop and admire.
Have you landed or departed from any other these airports? Share your photographic memories on Facebook with @FloridaEscape and the hashtag #FloridaAirport.