We finally made it to the Courtyard Fort Lauderdale Coral Springs in Florida and wow did we have a blast! Yes, after months planning this road trip we packed and drove down to Coral Springs. The beach, the food, and the entertainment was awesome and the accommodations amazing.
If you haven't visited Coral Springs in Florida, you should.
Here are the top 15 reasons to stay at the Courtyard Fort Lauderdale Coral Springs too!
1. Excellent location
The hotel is located on North University Blvd. close to many restaurants and shops. Not only the location is suitable for sports teams competing at the BB&T Center just 9 miles away but is also close to Sawgrass Mills Mall and just 50 minutes to Pompano Beach down Atlantic Avenue to the beautiful Ft. Lauderdale coast.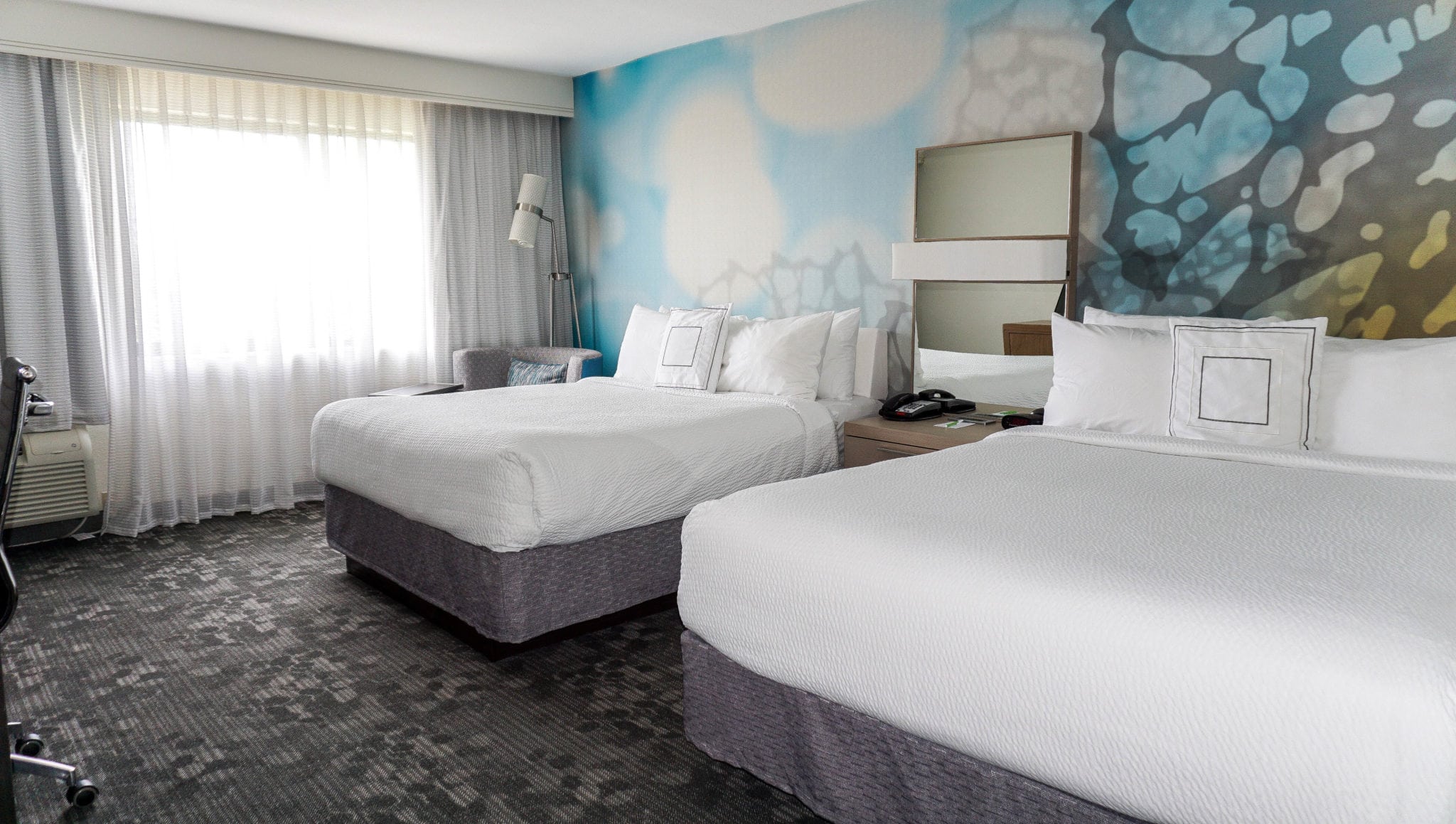 2. Cozy Renovated Rooms
The moment we walked into our room we felt relax and ready to kick back. The spacious room, the fresh contemporary décor, and a light color scheme is very soothing and calm. Our room featured two super comfortable queen beds with white feather down duvets and feather down pillows.  To our surprise, each of the queen beds had four pillows which is not usual to find in standard hotel rooms. The soft sheets, the plush feather down pillows and the duvet cover were super comfortable. The Courtyard Fort Lauderdale Coral Springs has 102 guestrooms and suites giving guests an array of room options to choose.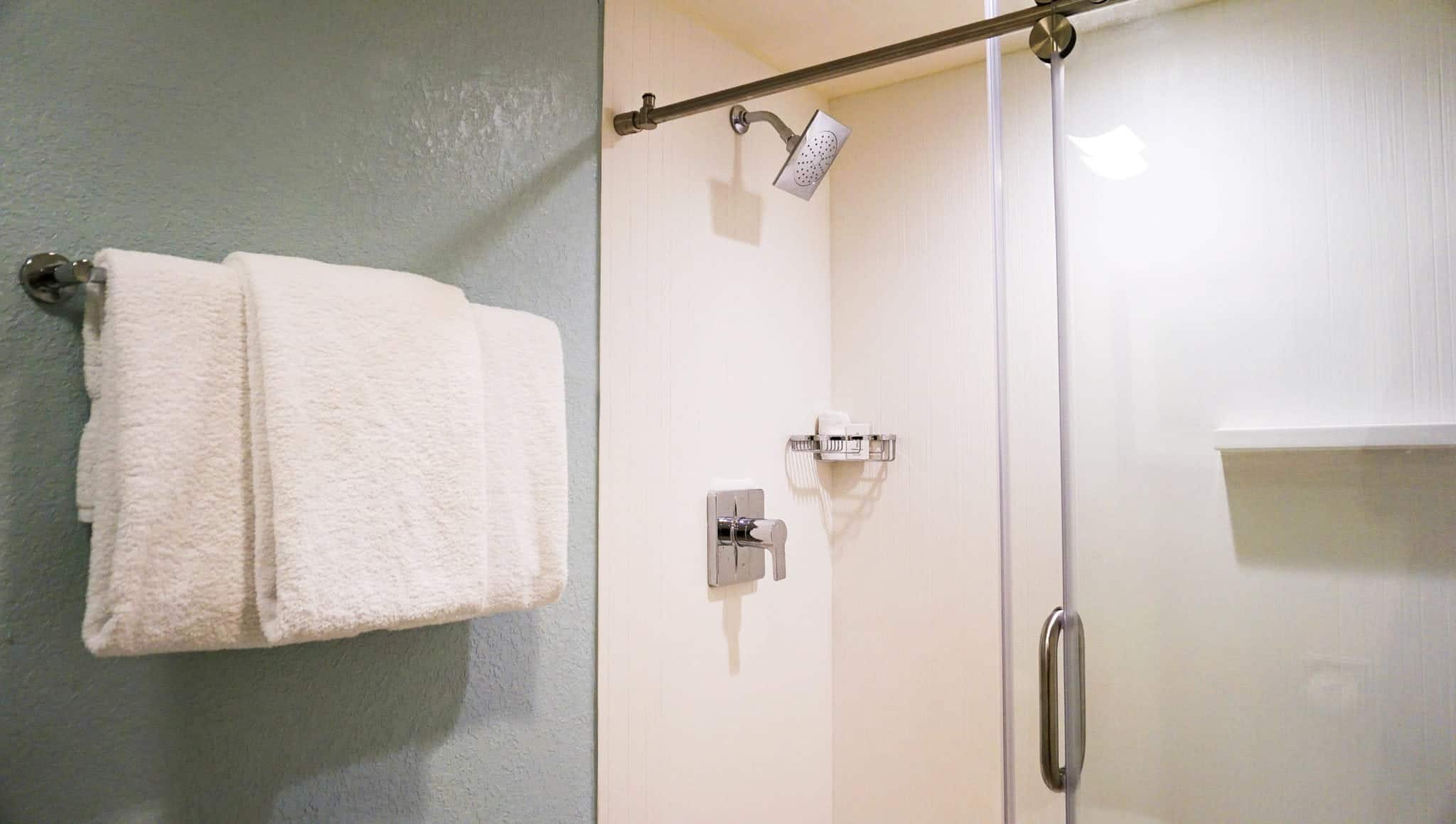 3. Spacious Bathrooms
The bathroom was clean and spacious. The glass-enclosed showers are long and wide and the Kohler shower heads offer a very soothing and relaxing shower experience. The quality of the oversized towels was super absorbent and soft to the touch. This Marriott hotel is environmentally-friendly, giving the guests the option of reusing their towels during their stay, therefore, reducing the impact of the environment by saving energy and water as well.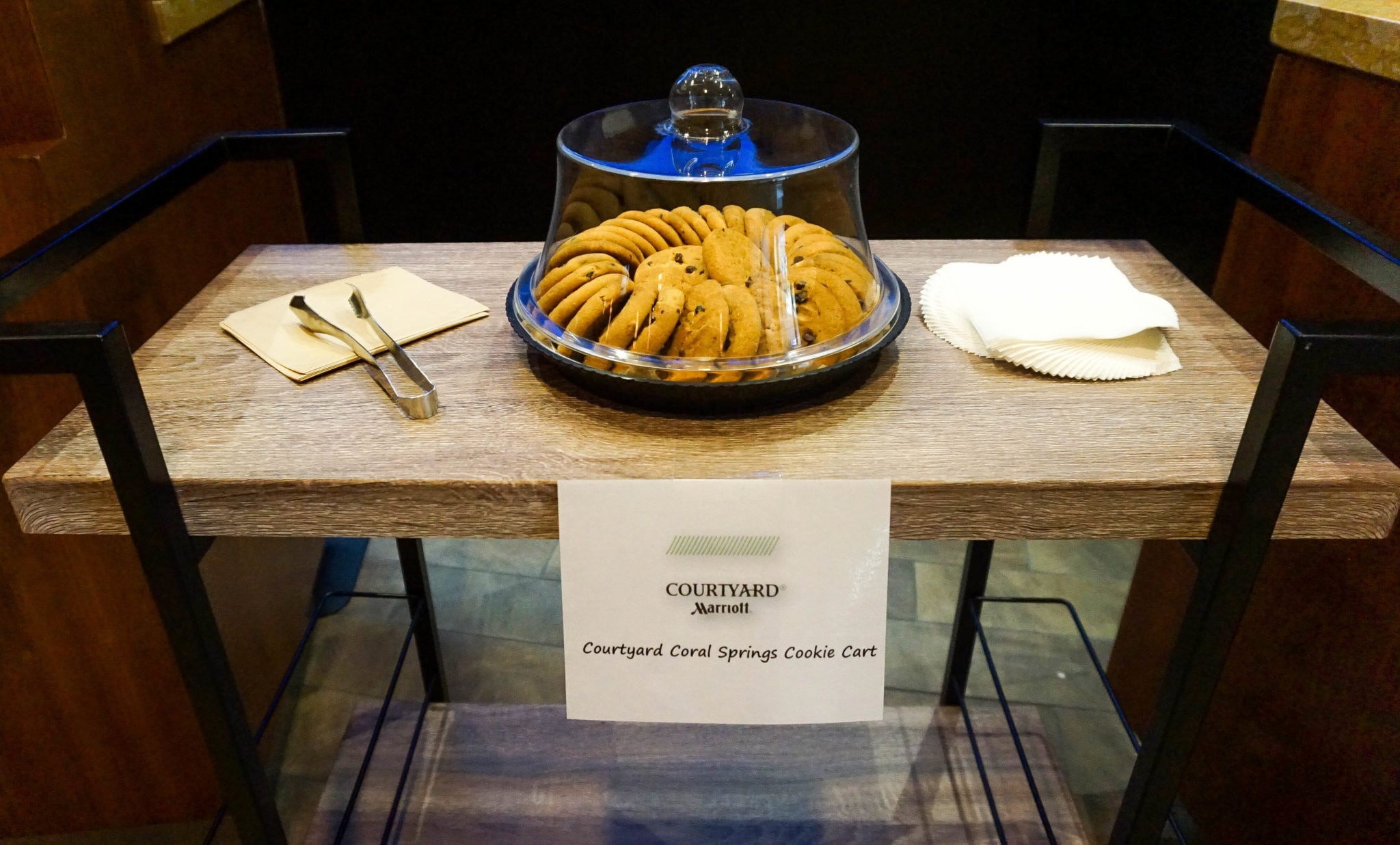 4. Cookies anyone?
Nothing better than walking into the lobby and feel the aroma of fresh home baked homemade cookies just out of the oven. Karina, our daughter, spotted the cookies the moment we walked into the hotel. Of course, my wife and I could not resist and had to try them too! Cookies are available daily from 3pm until finished. Grab them quickly as they don't last for too long.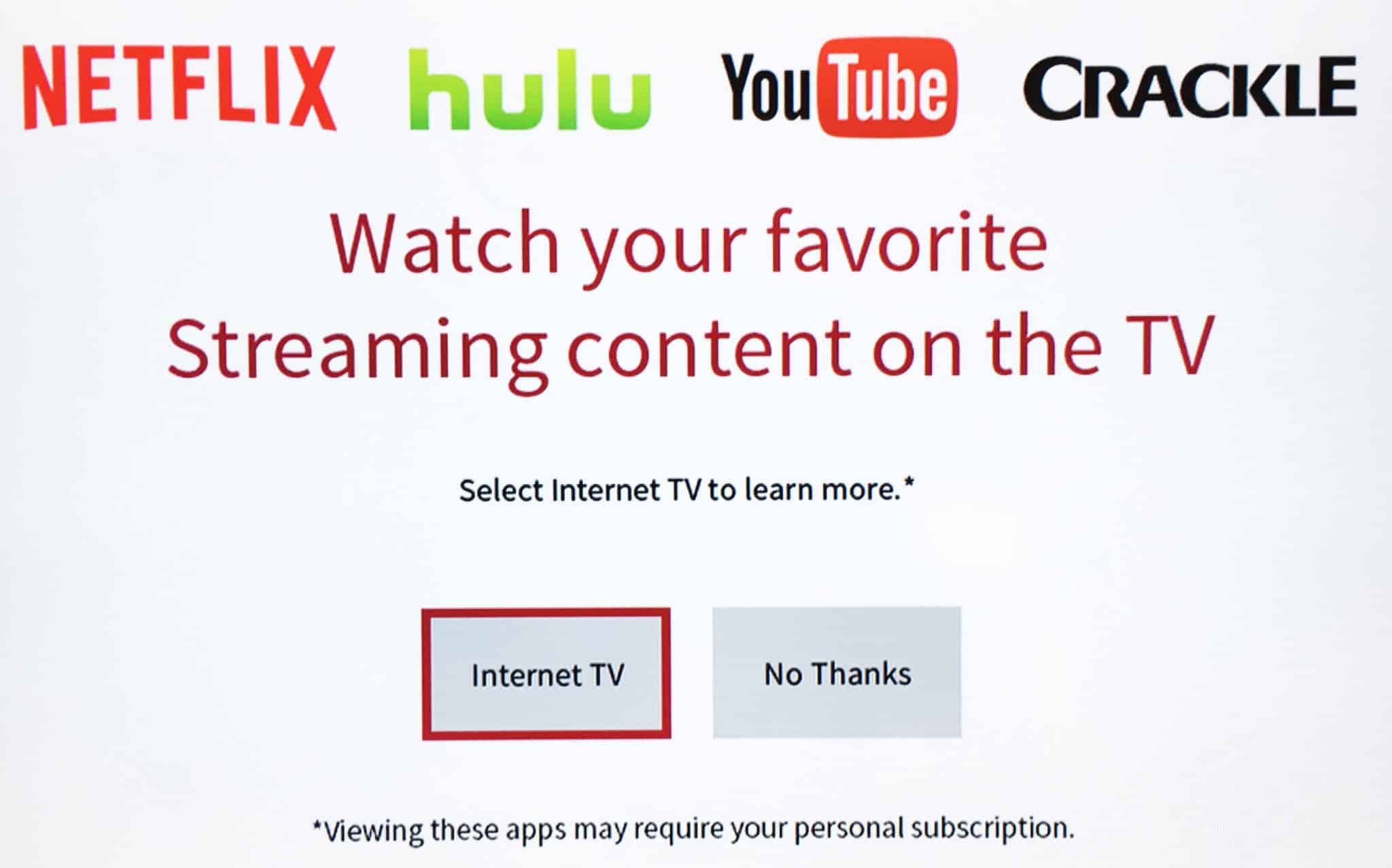 5. Smart TV's
Want to watch your favorite TV programs? Just connect your phone or Ipad and watch your favorite channels such as Hulu, Netflix, Amazon, or YouTube. Our daughter enjoyed watching her favorite programs while we were busy settling down in our room. The Courtyard Fort Lauderdale Coral Springs also offers free HBO and free WiFi.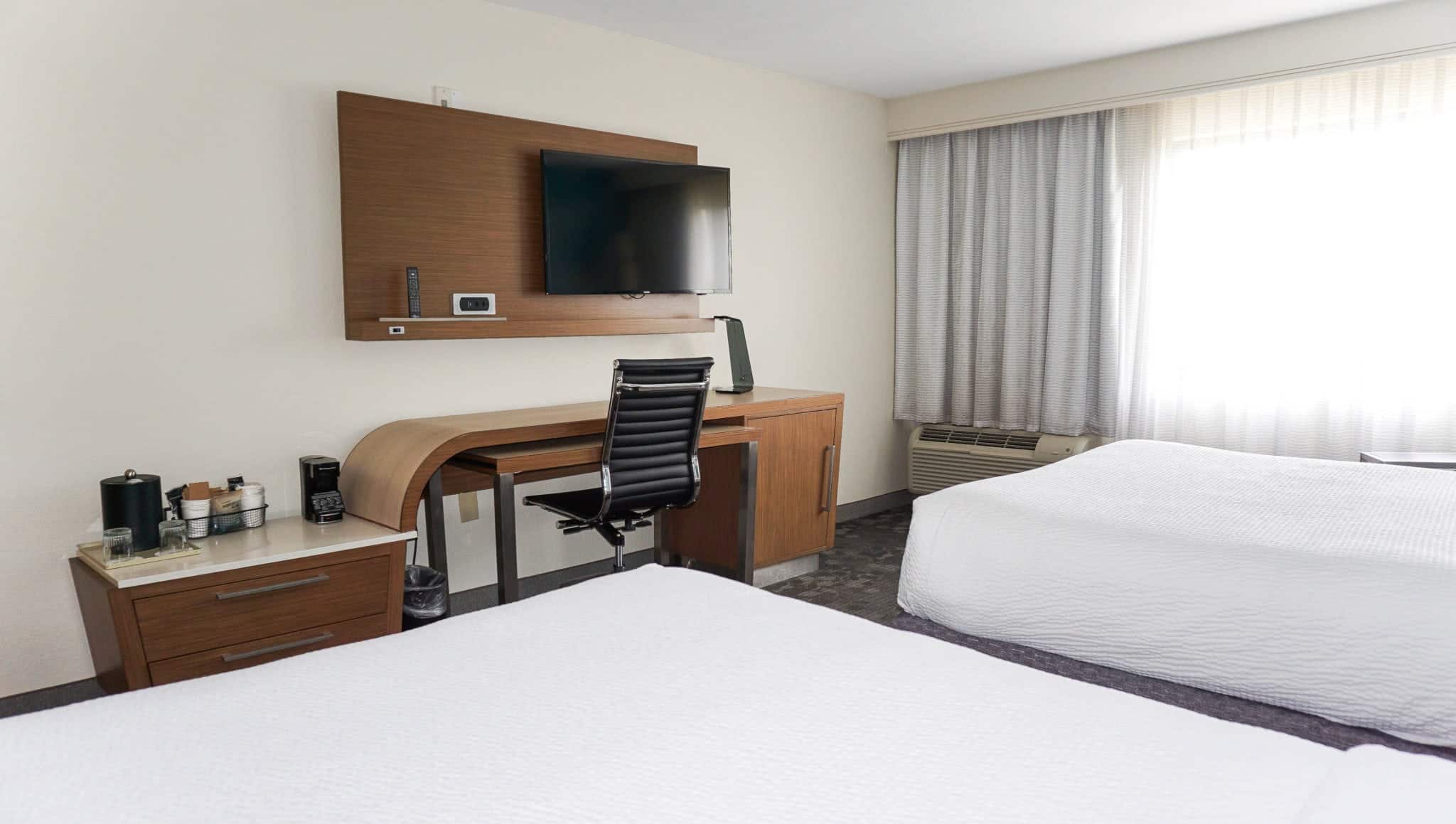 6. Comfortable work desk
Nowadays work and travel go hand in hand. The hotel did a great job by adding a really nice pull-out desk that you can wheel out and position it against the wall in your room. The work desk is spacious, offers excellent lighting and has enough outlets for your electric devices. The executive ergonomic high chair is very stylish and comfortable.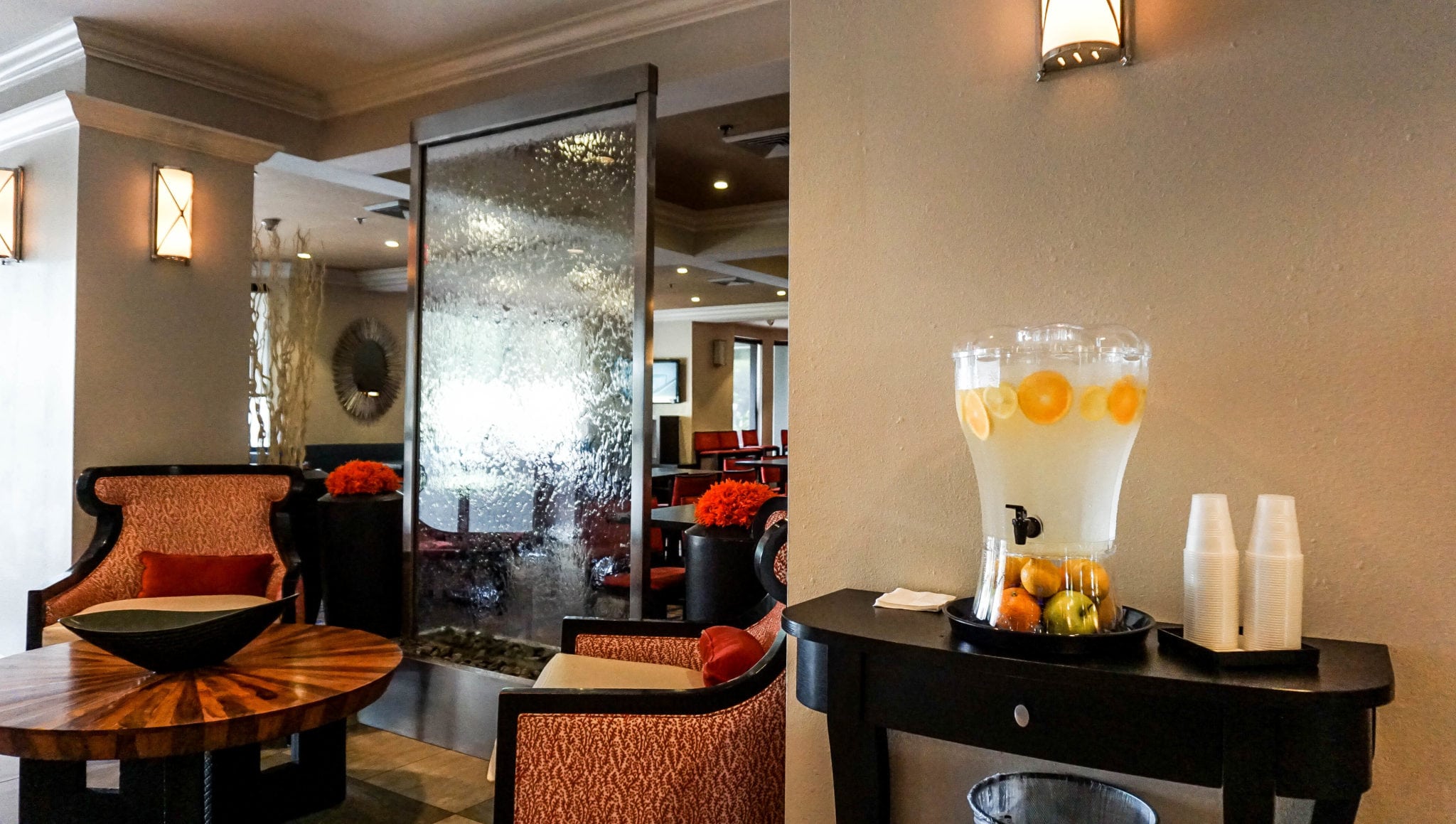 7. Fruit Infused Water – So Refreshing!
Forget about fountain drinks, coffee or soda! Enjoy refreshing fruit infused water with strawberries, orange, and mint prepared daily by their friendly staff. The water tasted great and our daughter Karina was fascinated by the pretty looking jar with the fruits in it. An awesome idea to stay hydrated in a healthy way.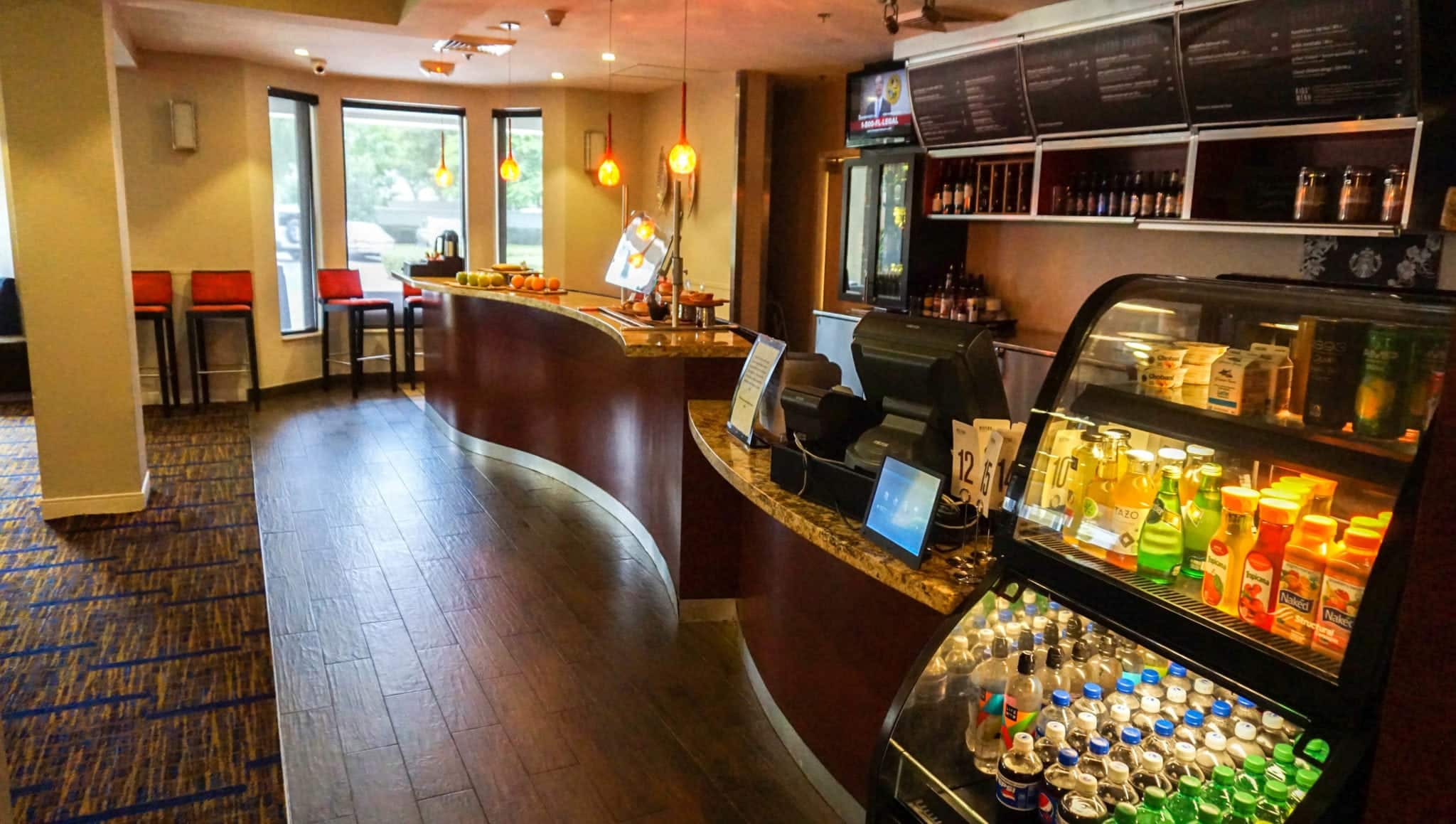 8. The Bistro Restaurant
Oh! The Bistro… Nothing better than starting your day with a hearty breakfast. For breakfast, I ordered the fresh omelet with bacon, onions, and mushrooms served with a side of arugula salad, sausage and fresh whole wheat toast with jam. To drink, Elijah, our server, suggested trying the Caffé Misto, one of Starbucks specialty coffees. Wow, was that coffee smooth and tasty! As for dinner they also offer a great variety.  Some of the items include the flatbread pizza, Cesar's salad, yummy homemade fries (our daughter's favorite) and the chicken wings with homemade garlic sauce. The Bistro is open for breakfast (Monday – Friday: 6:30pm – 9:30pm / Saturday and Sunday: 7:00am – 10:00am) and dinner (5:00pm – 10:pm every day)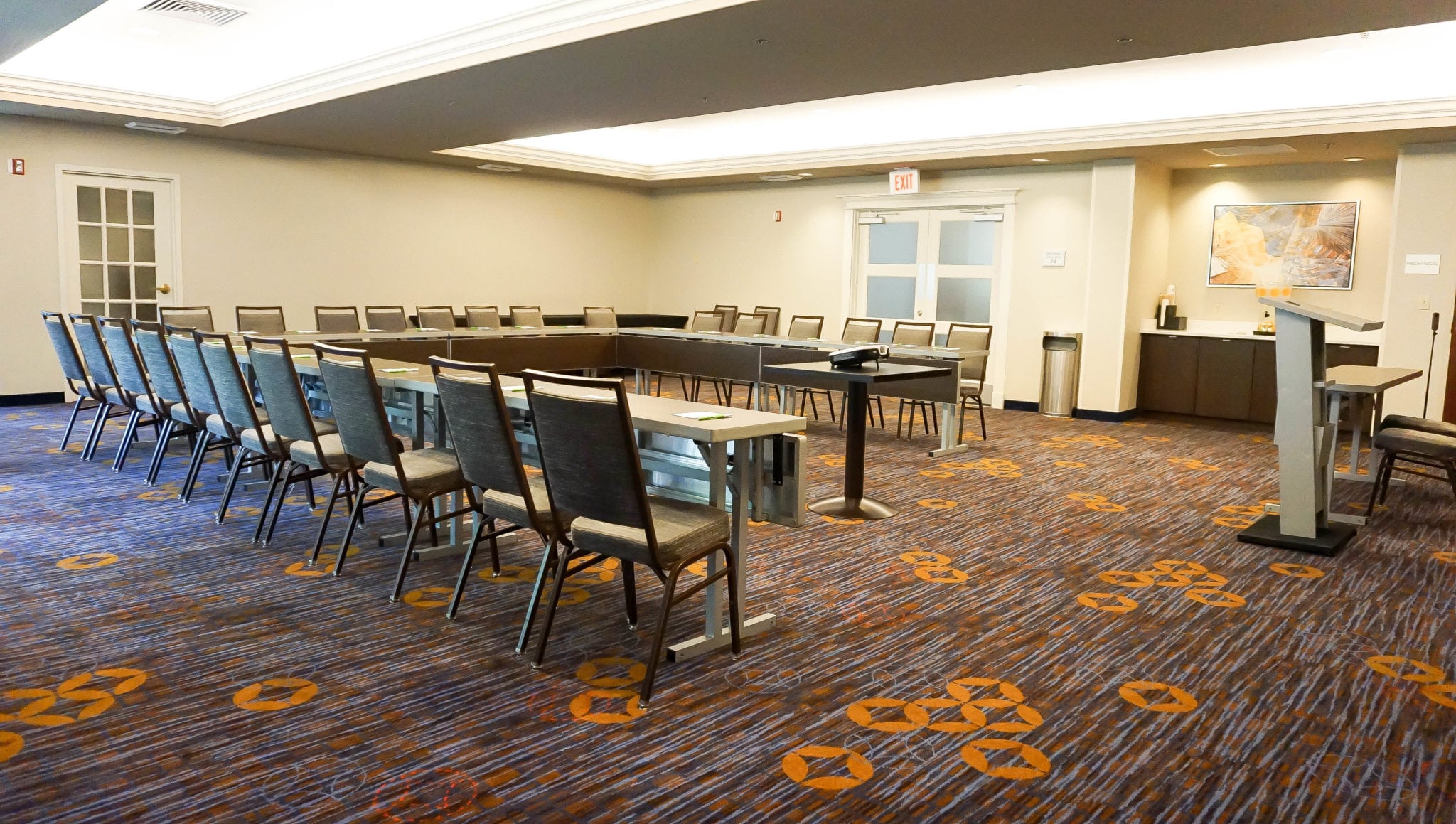 9. Meetings and Wedding Events
If you are planning a family gathering, wedding or a business meeting, the Courtyard Fort Lauderdale Coral Springs is a great option. The meeting space is very versatile and convenient. It can hold events for up to 75 guests. While we were there, a baby shower was taking place and soon-to-be-mom was really happy. Food catering can be provided by the hotel or any outside company that you prefer.
10. Nearby Restaurants
The location of the hotel is great and although The Bistro offers a great menu, there are other restaurants that you must try while visiting the area. These are: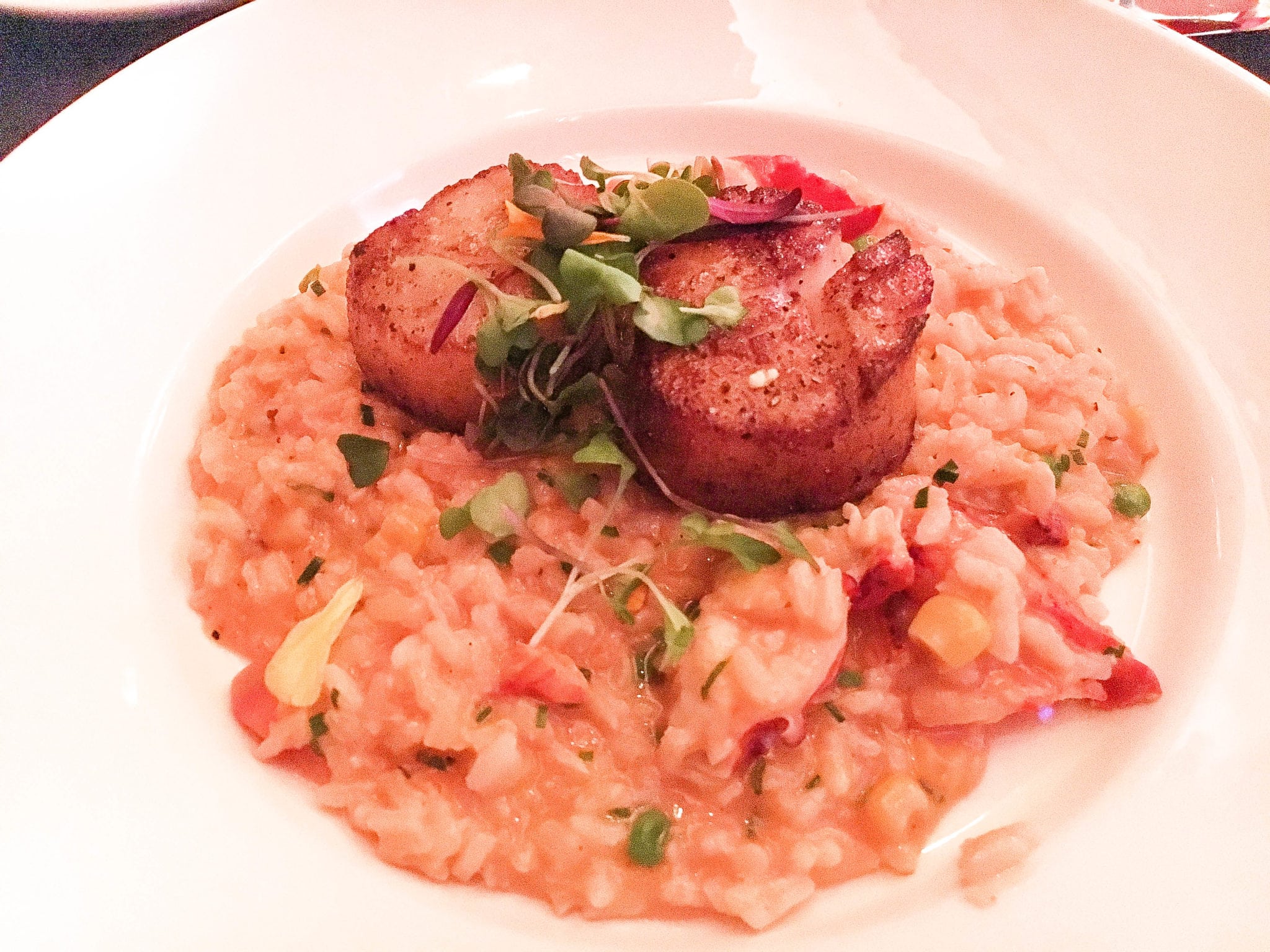 – The Tavolino Della Notte Italian Restaurant – My favorite choice! – This family-owned Italian restaurant is a must try when visiting Coral Springs. My wife and I ordered the lobster risotto while Karina ordered the kids pizza. The food was extraordinary and the music entertainment was tops. Now I see why they have a 4 1/2 Stars rating in Yelp and TripAdvisor.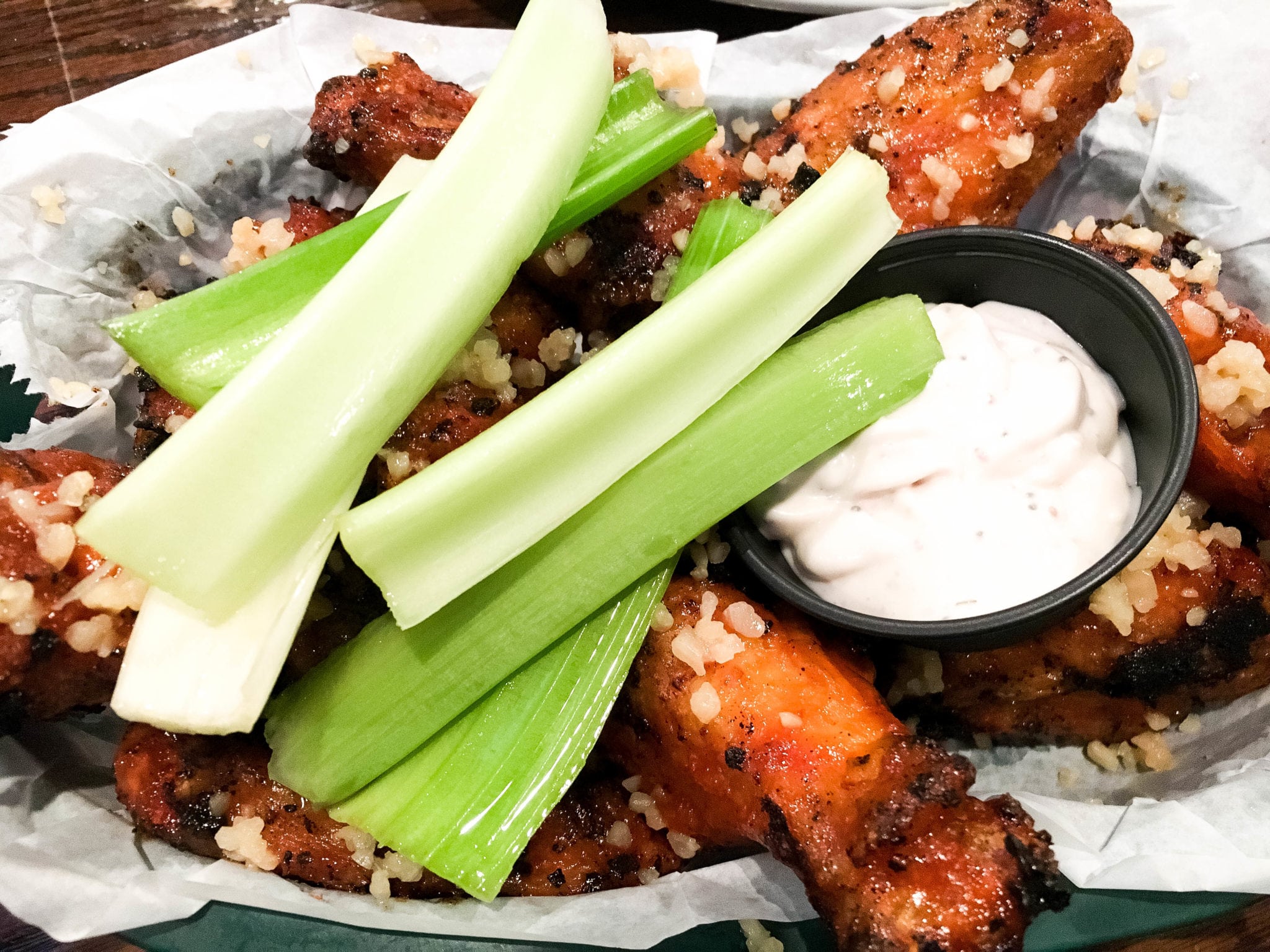 – Bru's Room Sports Grill – For the best chicken wings in Coral Springs, and I really mean the BEST CHICKEN WINGS, visit Bru's Room. Best known for their famous "Triple threat chicken wings" with fresh minced garlic on top. It was the first time I tried these wings and they were AMAZING! Other items that we enjoyed were the spring rolls, the kid's pizza, and the Mahi tacos with hot sauce. Bru's Room is also a local favorite to gather with friends, grab a local craft beer and watch your favorite sports venues. The restaurant is family and kid-friendly.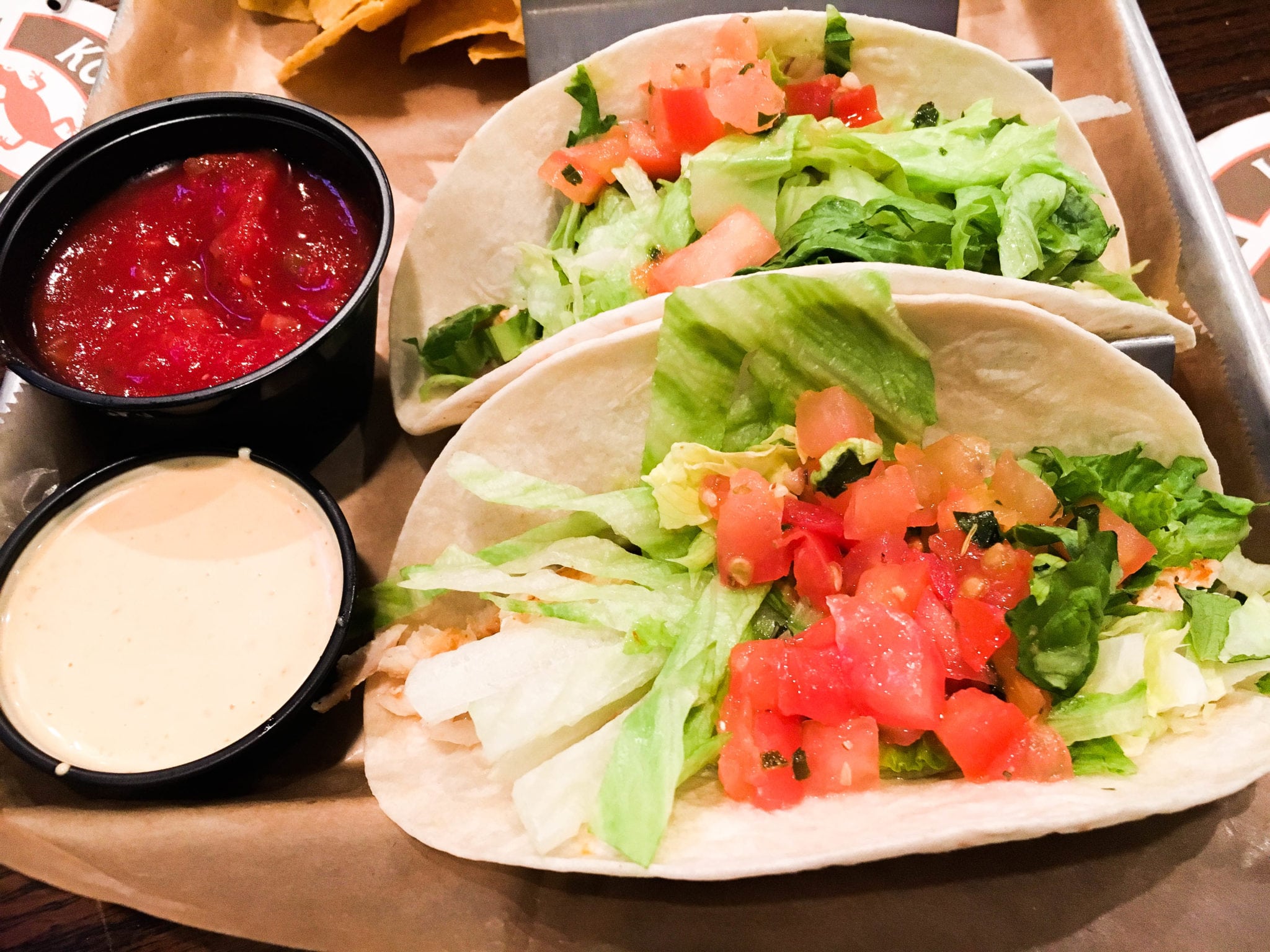 – Tijuana Taxi Co – Feeling for some tacos, nachos and tequila shots? Tijuana Taxi Taco features a wide variety of dishes from Spanish to Mexican and even Cuban fare. Karina enjoyed the kid's popcorn shrimp while my wife and I enjoyed the Palomilla steak loaded with onions and garlic along with Mexican rice and refried beans. Servings are huge so one dish is big enough for two.
After eating so much guess where we ended up? In the….
11. Fitness Room
My wife and I enjoy going to the gym but traveling makes it hard to keep up with our workout routine. The fitness room at the Courtyard Fort Lauderdale Coral Springs is easily accessible. It is located on the first floor across the elevators. While my wife prefers the elliptical machines, I hit the free weights and the treadmill. Towels and sanitizing wipes are freely available for the hotel guests. The fitness room is open 24 hours / 7 days per week and requires your room key to get in.
12. Pool Area
After spending the day in Pompano Beach, we ended up relaxing by the pool of the hotel. The pool was quiet and peaceful and the hot tub was really nice and hot. We also ordered a couple of appetizers and drinks from The Bistro and chilled until 9:00pm. We really enjoyed a quality family time and a much more needed vacation. The pool is heated seasonally and is open daily from 7am – 11pm.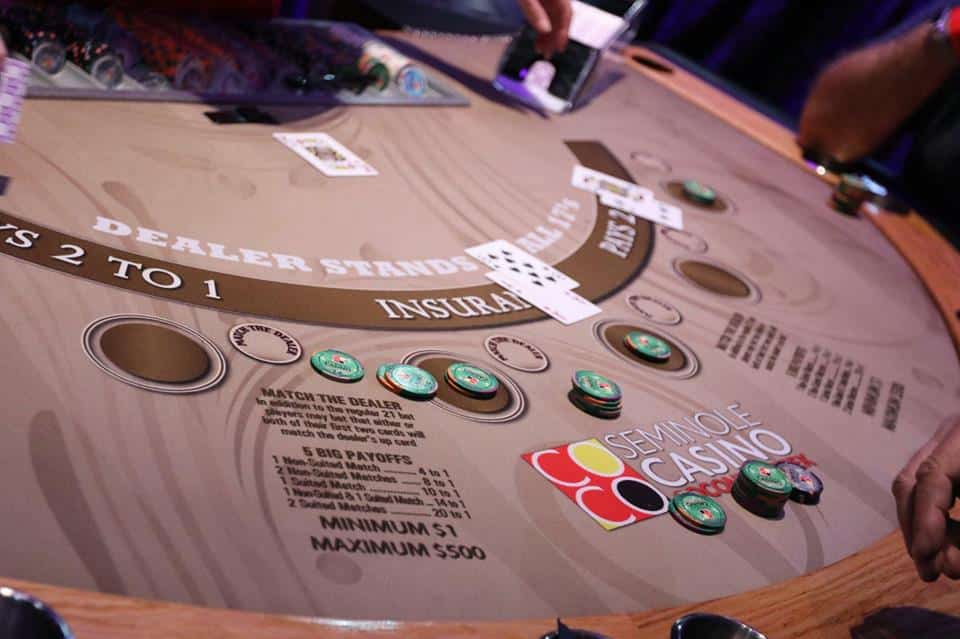 13. Other Places of Interest
There are other great places to visit that are just a short drive from the Courtyard Coral Springs: These are:
– Coral Springs Museum of Art – 7 miles – A beautiful art museum exhibiting diverse Florida, national and international artists.
– Betti Stradling Park – 4 miles – A sports court, fields and skate park with an elaborate kids playground.
– Tall Cypress Natural Area – 5 miles – A dense forest with a nature boardwalk
– Pine Trails Park – 7 miles – Featuring beautiful fishing pier, children playgrounds, and walking trails
– Seminole Casino Coconut Creek – 7 miles – With table games and more than 2,000 slot machines.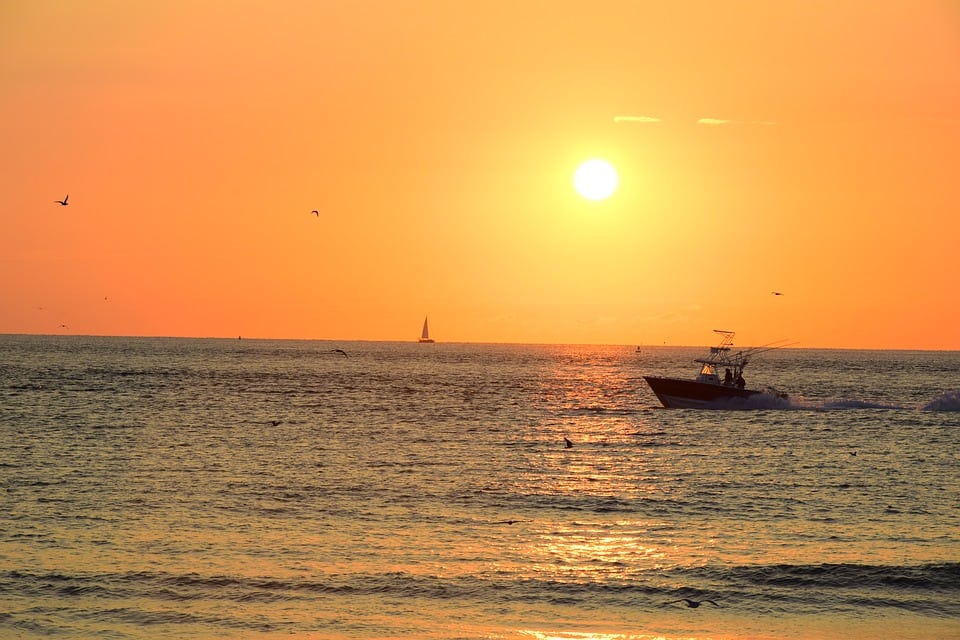 14. Excellent Weather
If you like warm weather, look no further than Coral Springs in Florida. Here are the average low's and hi's year-round:
– Spring: High of 80, Low of 62
– Summer: High of 91, Low of 74
– Fall: High of 89, Low of 65
– Winter: High of 77, Low of 59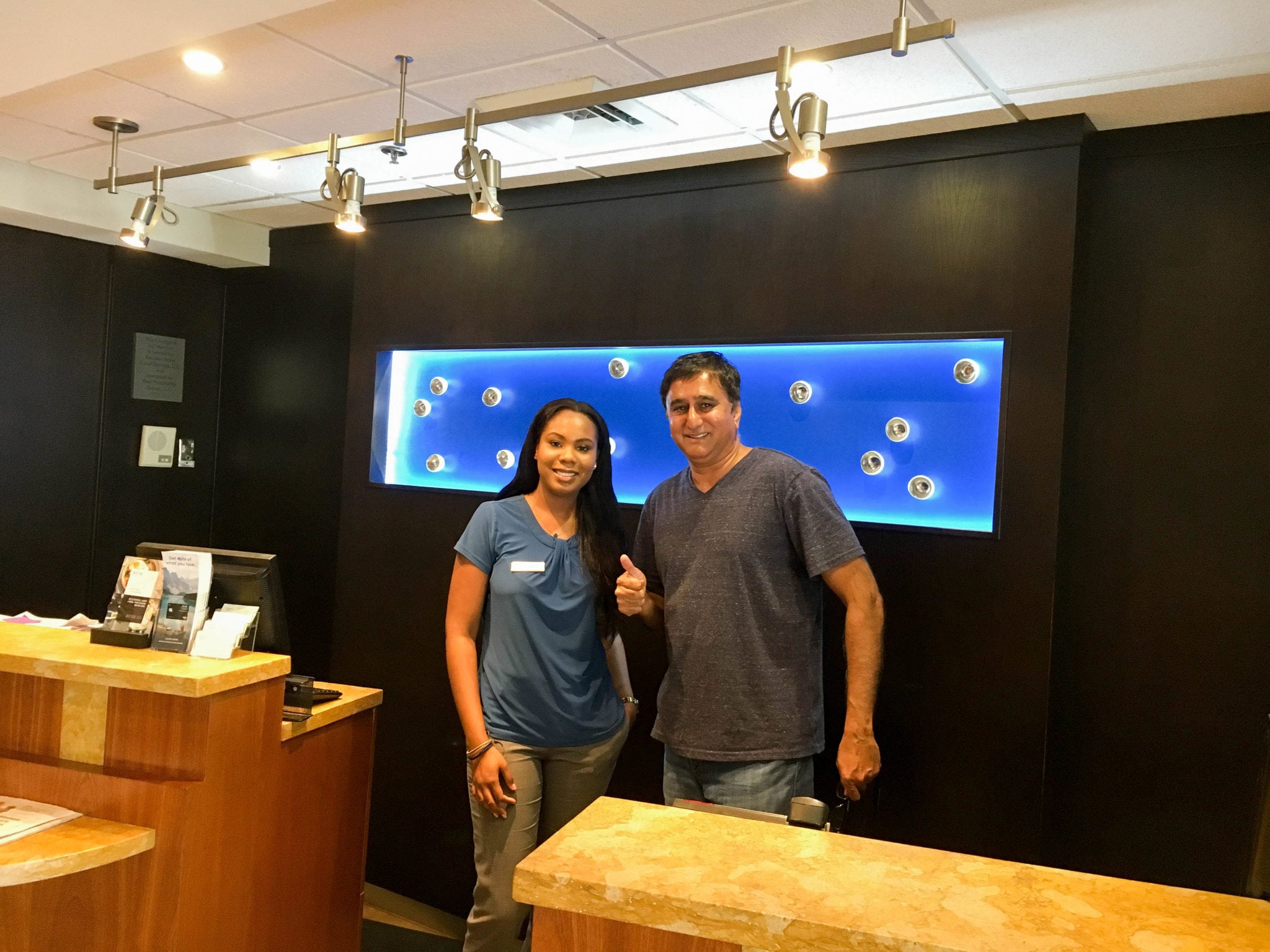 Last but not least…
15. The Friendly Staff at the Courtyard Fort Lauderdale Coral Springs
The staff was amazing and provided us with excellent and friendly service from arrival to departure. Thank you, Darlene, Raquel, Kellene, Amy, Heather, Carina, Elisha, and all the team for your incredible hospitality.  Keep up the great work!
Until next time, Sunil, Irmarie, and Karina.
Rates begin at $80 per room per night. Florida residents and Marriott Reward members can enjoy special deals throughout the year at the Courtyard Fort Lauderdale Coral Springs and most Florida hotels.
See 360 views of the Courtyard Fort Lauderdale Coral Springs on Google Maps | View video on Facebook | View video on YouTube | Google Maps Listing