With the effects of global warming becoming ever more noticeable many people are changing to a vegetarian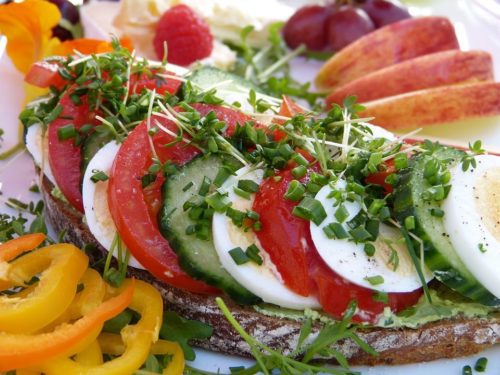 diet to be kinder to the planet. Being a vegetarian can help reduce the carbon footprint, whilst helping to conserve land and water.
Did you know? Carbon dioxide is emitted when forests are cleared for cattle grazing or for growing grain to feed animals.  Fossil fuels are used to transport animals and to power the production of their feed.
Altering your lifestyle doesn't have to make going out with friends and family a chore. Searching through an endless list of cafes and restaurants looking for meat-free dishes isn't a fun way to spend your time. So, we have created a mini guide for you. Here are the places around Tampa, Florida that offer vegetarian and vegan options, ideal for every meal of the day plus snacks.
803 N Tampa Street, Tampa.
Within the Duckweed Urban Grocery, there is a clean eating café and bistro that offers everything a conscientious eater dreams about. Along with smoothies and yummy acai bowls, their menu includes the Farmacy burger, jerk tofu wrap, and almond berry waffles to name a few of the delicious choices available to you. They can even create your perfect wedding cake.
Being a vegetarian doesn't mean you miss out on the delicious world of Pizza. The Gourmet Pizza Company has vegan pizza breadsticks, pizza crust and meat-free salads available. They make everything from scratch so can adapt to your tastes and requirements. Plus, they deliver.
505 Franklin Street, Tampa.
There are now multiple taco buses around the Tampa area, see which is closet to your apartment or hotel. They pride themselves on offering a selection of animal-free products, such as the Portabella Ranchero Taco, Tofu Taco, Butternut Squash Taco, Vegan Steak Strips and El Borrito Bol.
714 South Howard Avenue, Tampa.
In the mood for a burger? Head to BurgerFi for the tasty VegeFi Burger. It is made with Crispy Quinoa and Pure-Cut Veggie Burger, White Cheddar Cheese, Lettuce, Tomato and BurgerFi Sauce. It can be served on a Multigrain Bun or Green Style, wrapped in lettuce.
10029 W Hillsborough Avenue, Tampa.
Dosa Hut has been open for 4 years and the all you can eat south Indian vegetarian menu has become a popular lunchtime restaurant. The food is delicious and its buffet style means you waste no time before you have to head back to the beach.
1000 Channelside Drive, Ste A1 (at York), Tampa.
If you find yourself peckish, after visiting the aquarium, check out the quick bites at Greenroots Café. They have a range of colorful salads, tasty acai bowls, and smoothies. If you like Coconut Water, Pitaya, Strawberries, Pineapple, Agave try the brightly colored Pink Flamingo Smoothie to quench your thirst.
2540 E Fowler Avenue, Tampa.
This cute book and music store has a coffee shop that sells homemade vegan bakery goods. So, if your passing and fancy a peanut butter chocolate chip cookie, this is the place to escape the summer heat for a few minutes.
2202 W. Waters Avenue, Tampa.
For all the Chinese cuisine lovers the #1 restaurant in Tampa is Yummy House. Try their Seaweed Soup or Egg Drop Soup for starters and follow up with Chinese season vegetables Sautéed with Garlic or the Snow Pea Tips Topped with Heart of Bamboo. You won't leave hungry.
Our guide includes 8 places to fill your tummy with delicious animal-free meals and snacks. Which will you choose? If we forgot a great vegetarian restaurant, share the details here on Facebook in the comments section, along with your favorite dish.
Read More: