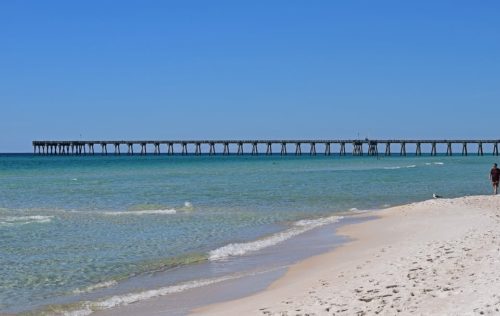 With so many fun and relaxing activities Panama City Beach is a great place to escape your routine life for the weekend, or longer if your lucky. The resort city of Panama City Beach is located on the Gulf Coast of Mexico, so is an exciting place to be all year round. The warm summer climate makes it a magical place to visit.
Things to Do in Panama City Beach
The best activity to do on a relaxing weekend is also the most obvious. It is, of course, spending the day at the beach.  At 27 miles long, there is plenty of golden sand so you are sure to find the perfect spot to sunbathe and play beach games. But that's not all. Panama City Beach is also a great place to indulge in some water sports. You can try snorkeling, scuba diving and parasailing. If you don't want that much adventure stick to swimming, either way you'll have fun.
Shipwreck Island Waterpark
If you want an adrenaline rush and have a fun experience outside under the summer sun instead of a relaxing sunbathe, visit Shipwreck Island Waterpark. For $35.98 you can spend the whole day sliding and splashing down slides, flumes and more, as well as swimming in the river rapids or lazy lagoon.  For those shorter than 50" (1.27 m) the price is $29.98 and Seniors (62+) are £$24.98.
Russell Fields City Pier
Be sure to schedule some time to walk the 1500 feet long pier. Not only will it stretch your legs, you will get an incredible view of the ocean. As you walk further into the Gulf of Mexico, be sure to look down. The clear turquoise water will surround you and if you are lucky you'll see some wonderful marine life swimming below your feet.
Shell Island
To see one of the best attractions of Panama City Beach you must take the shuttle and explore Shell Island. Spend the afternoon or whole day on the island, as it offers many exciting activities. Explore the island, take a boat cruise, go jet skiing or perhaps best of all you can swim with the dolphins.
St. Andrews State Park
Another great way to explore Panama City Beach is to visit St Andrews State Park and walk one of the two nature trails. You'll experience a wide variety of coastal plant life and some native Floridian birds, and it's a great place to have a picnic!
Enjoy the Sunset
After a busy day, head to the beach and simply sit and watch the sunset. The reds, oranges, pinks and yellows that fill the sky are simply breath-taking.
Pirate Bay Adventure Park
At 9518 Front Beach Rd, play a fun round of adventure golf. See if you can equal ex-president Barack Obama's daughter, Sasha. She hit a hole in one! At the weekend, Pirate Bay Adventure Park is open 10am – 11pm and costs $12 for adults and $9 for children. If you love it, you can go around again for $5.50.
Summer Festivals
If possible, plan your trip around a festival as they are amazing spectacle. The whole city comes together and the atmosphere is electric, regardless of the celebration. Here are some exciting annual events:
For more festivals, throughout the year, click here.
Where to stay
Being on the coast Panama City Beach has a wide range of choices for places to stay, and come in all shapes and sizes. What do you fancy? On the menu of tasty accommodation there are condos, beach houses, hotels and camping ground. Whatever your budget and preferred option this beautiful beach resort city has it and it is there, waiting for you.
Have a great time in this wonderful part of Florida and please remember to always wear sunscreen.