Jacksonville restaurants run the gamut from riverfront dining at the Jacksonville Landing Riverfront Marketplace to unique eateries in the San Marco Historical District. As with any Florida city, especially in a coastal area, seafood is an important item on the menu, but don't forget all of the cattle ranching that takes place in the Sunshine State. There is plenty of "surf," "turf," and a wide variety of experiences for visitors and residents who are looking for restaurants in Jacksonville.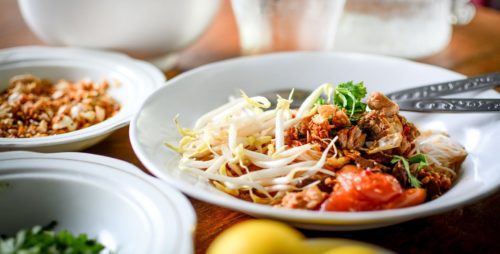 While some of the Jacksonville restaurants on this top 10 list can be found in other locations in Florida or throughout the country, there are quite a few Jacksonville originals that have developed a reputation with area residents over the years. As Florida's largest city, Jacksonville serves up plenty of dishes in unique restaurant atmospheres that reflect the diverse culinary traditions that have influenced the Sunshine State.
Top 10 Jacksonville Florida Restaurants
The Chart House Restaurant boasts entrees that include "top-of-the-catch seafood, succulent steaks, and decadent desserts." There is also an extensive collection of fine wines and whiskies to choose from. The Jacksonville location offers views of the city's skyline and the St. John's River. Reservations are recommended; call (904) 398-3353.
Bistro Aix is located in the hip San Marco Historic District. The seasonal menu includes items such as Grilled Tuna over Whipped Potatoes, Baby Spinach, Lemon-Garlic Butter and Chive Oil, or Lamb Tenderloin on Roasted Eggplant, Potatoes, Charred Tomatoes and goat Cheese Cream. Reservations are recommended; call (904) 398-1949.
With live weekend entertainment, outdoor dining, a view of the St. John's River and an on-site brewery, you can't go wrong at the River City Brewing Co. Located on the south bank of downtown Jacksonville, the 325 seat main dining room serves up dishes created with a global flair that include fresh seafood, tender steaks creative pasta dishes. Call 904-398-2299.
Matthew's Restaurant is in the San Marco district and is operated by one of Florida's most honored chefs, Matthew Medure. Guests who dine at Medure's signature restaurant Matthew's at San Marco easily pick out Mediterranean, Middle Eastern, Southern and Asian influences. Reservations are recommended; call 904-396-9922.
The ultra-exclusive Chew Restaurant offers locally originated food with flair. Entrees include Hazelnut Encrusted Veal Chop, Seared Grouper, Duck Leg Confit, Filet Mignon, Stuffed Quail, and Braised Short Ribs. Reservations are recommended; call 904-355-3793.
Morton's: The Steakhouse already has a reputation for outstanding steak throughout the country, and has several Florida locations. The Jacksonville restaurant location for Morton's is the scenic southbank of downtown Jacksonville, near the historic 1920s-era Florida Theatre and San Marco neighborhood. Enjoy classic dishes such as Oysters Rockefeller, Lobster Bisque, and Prime Rib. Call (904) 399-3933 for reservations.
If an urban dining experience is not for you—go out to the country (and you can still be in the city of Jacksonville). The rustic Clark's Fish Camp Seafood Restaurant serves up oysters, crab and crawfish a number of different ways, and it also prepares gator, eel, turtle, rabbit, frog legs, quail, ostrich, antelope, snake and a few other "wild" appetizers. For reservations call (904) 268-3474.
A Jacksonville establishment since 1974, The Wine Cellar has evolved from a small wine shop and bistro into a full service restaurant that combines eclectic, new world dishes with Asian and American influences, as well as the more classic European traditions. Dishes include a number of seafood, poultry, and beef dishes, including Filet Mignon, lobster, grouper and salmon. Call (904) 398-8989 for reservations.
It's a restaurant, it's an arcade, it's Dave & Busters. The Jacksonville location is one of only three in the state of Florida. Dave & Busters has a full service bar with happy hours and a restaurant menu that includes appetizers, crisp salads, juicy burgers, fresh seafood, and succulent steaks, and then it's off to the in-house arcade for a couple more hours of fun. Call 904-296-1525 to reach Dave & Busters.
Restaurant Orsay on Park Ave. in Jacksonville offers fine wines, a raw bar, luscious desserts, and distinctive cocktails. From Prince Edward Island Mussels to Carolina Trout, there is a wide variety of seafood, poultry and beef selections, including a Florida favorite—Wild Caught Grouper. Reservations are recommended; call (904) 381-0909.