Summer is here! Kids everywhere are ditching their backpacks and pencils and getting ready to pick up their beaches bags with shovels and pails in hand. Florida is a year-round beach haven, but to many with school-aged children, the only time these families can get away is in the summer.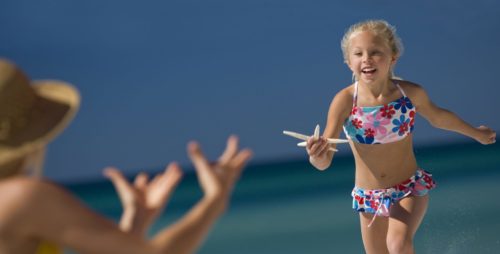 Florida vacations don't need to involve theme parks. In fact, some of the best Floridian vacations involve a simple theme of beach, sun, and sand. All Floridians know where to go when they head to the beach, but if you're coming to Florida for the first time with your family in tow, you'll want to choose a beach that's suitable for your family.
On the beach, parents often worry about the steepness of the shore as well as if there are lifeguards on-site. And with smaller children, having plenty of nearby bathrooms around is a must. Here are our favorite Floridian beaches that will put all your concerns to rest and have plenty of interesting activities, affordable hotels and resorts, and kid-friendly restaurants surrounding them.
Daytona Beach
Daytona Beach is world famous, and not just for its wild spring break. And if you're thinking we're crazy to recommend this place to families, hang on! Because during the summer, it's nothing like the wild place it becomes when all the college kids are turned loose for a week of debauchery. In the summer, Daytona Beach is a prime family beach destination. You can drive right onto the sand and tailgate near your car, or you can set up blankets and towels right on the beach. During the day, the low tide creates a natural rift in some areas, trapping the water in shallow pools that are absolutely ideal for younger children.
Additionally, Daytona Beach has all the recreational activities you could hope for right there on the beach. You'll find no shortage of excitement with rentals for bicycles, boogie boards, even ATVs. You can even learn how to surf. Plus, if you're looking for refreshment or the kids are screaming for ice cream, you won't have to leave the sand to find it. Just off the beach, Daytona Beach has a famous water park and is home to the Daytona International Speedway.
The Florida Keys
The Florida Keys are spectacular little islands all connected by a massive highway that unite it from Miami to Key West. Each Key has its own distinctive charm and plenty of spectacular beaches to enjoy. Among the most family-friendly is Key West. There are a plentitude of adventures to be had here with historical tours, lots of water sports, entertainment and more. It's unlike any other place in the world and has a unique laid back charm that you'll long for once you return home.
Key Largo is also intensely family-friendly. There's a coral reef to explore and loads of other attractions. And because all the Keys are easily joined by the highway, you can create your own adventure by roaming through different destinations along the way for a tailor-made vacation that your family will never forget!
Clearwater Beach
On the central west coast of Florida right on the Gulf of Mexico, Clearwater Beach is a sugar-sanded paradise. The waters are clear and shallow here, making for a worry-free splash to cool off from the hot sun. On the pier, catching the sunset is a must. There is a grand selection of family-friendly resort accommodations with activities and water sports to keep the whole family engaged. Plus the aquarium is a great place to get out of the sun for a spell and check out the world under the sea.
Siesta Key
You might be tempted to think this Key is down in the Florida Keys, but Siesta Key is located on the central west coast of Florida. It's a renowned place, boasting many awards for its ample variety of water sports. It's an elegant place that has the kind of things you'd enjoy in the Keys to the south but without traveling as far and with fewer crowds. Restaurants and shops are easy to get to thanks to a convenient trolley. It's surprisingly affordable here too. Everyone in the family can get comfortable here and bask in the glory of affordable fun.
Amelia Island
It's almost in neighbor-to-the-north Georgia, but this gorgeous and historic island is actually a part of Northeast Florida. If you're looking for a quieter retreat where people won't give you the stink eye for brining your children, this is the place. The beaches are wide and beautiful, plus there are no shortages of adventures to be had here. Horseback riding on the beach is a must-do, plus you'll find kayaking and other water sports to fill your time with. Many of the resorts here offer special programs for children which will give parents some peaceful time to spend alone together.
On Amelia Island, Fenandina's Beach is a resplendent place to eat and shop. It's a place the whole family can easily spend wandering around. From the beaches to the activities, Amelia Island makes for a fantastic place to vacation as a family.
Panama City Beach
Here's another beach known for its rowdy spring break crowd. And just like Daytona Beach, Panama City Beach up in Florida's panhandle becomes a whole different place in the summer, ideal for families looking for vacation fun. There are 27 miles of perfect white-sand beaches overlooking the Gulf of Mexico. Plus, accommodations are much more affordable here than they are at beachfront resorts further south. A variety of family-friendly restaurants, exciting eco-adventures, and thrilling water sports give you many ways to create the best vacation for your family. The city always hosts family-friendly activities so before you visit, take a look at what will be happening when you're in town to incorporate into your trip.
Fort Myers Beach
If you're considering a place like Fort Lauderdale Beach for your vacation, take a quick look at Fort Myers Beach first. The two are very similar in that they offer miles of shimmering shores and fun activities for everyone. However, Fort Myers Beach is a much more affordable spot with the same kind of wonderful amenities that might attract you to Fort Lauderdale from sunny beach days to nights. You'll get more bang for your buck here, plus you won't have to contend with all the crowds or the resulting traffic.
Fort De Soto Park's North Beach in Tierra Verde
Nearby St. Petersburg on the central west coast, the warm and clear water with sea-shell lined shores is a marvelous place for families. This part of the beach resides in a county park. It's also buffered by a sandbar which serves to create a natural and shallow lagoon that makes for a fun place for young children to swim and play. The playground here offers another distraction. Just a short drive away, Gulf Pier at the park is renowned for dolphin sightings. There are miles or trails and even an old fort leftover from the Spanish-American War.
Which one will you choose for your family's summer vacation this year?