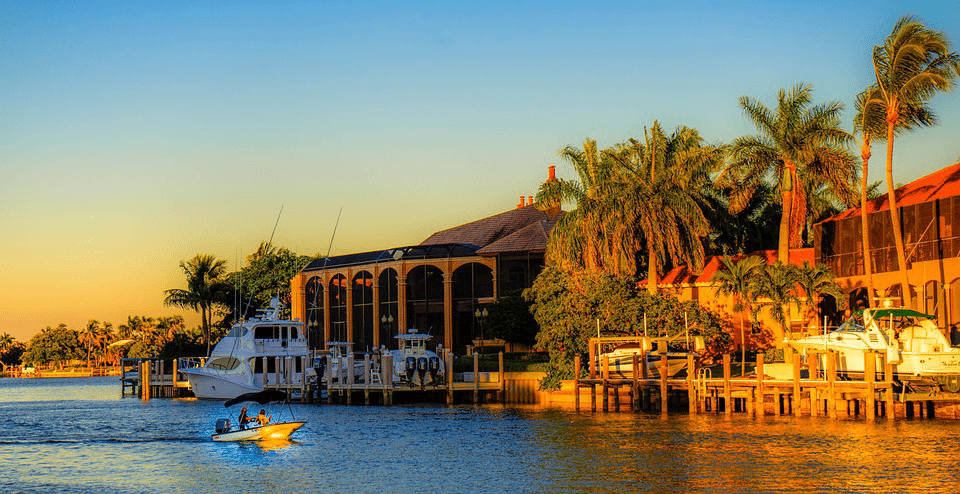 Marco Island is a city in Collier County, Florida. The city is located on an island with the same name in the Gulf of Mexico. Having a population of less than 20,000 people, Marco Island is the largest barrier island in the whole Southwest Florida. The feature that adds value to this island's beauty is its high elevations.
This is something uncommon in the pretty much flat landscape of South Florida.
The favorable tropical climate of the island has retained the magnificent beauty that charms the tourists. The unspoiled parks and beautiful beaches with golden sunlight make Marco Island an irresistible and tempting holiday spot that contributes massively to Florida's tourism industry. Here we've listed some of the most eye-catching tourist spots of Marco Island that one cannot deny have the most supremely exotic feel to them. These tourism spots have bewitched millions of visitors over the years and still continue to do so.
Cape Romano
Situated at the southern tip of the island, at the edge of the sea are these bizarre outer space type buildings. Though these dome like buildings used to be a vacation home of a retired oil producer, they now stand abandoned after being hit by several storms in the last few years including "Hurricane Wilma".
This vacation home, that is only accessible by boat, was built in 1980 and is now used by locals and visitors for fishing. Even though it's highly likely that these curiously shaped buildings will eventually sink in the sea because of rising sea level, they hold amazing architectural value that continues to fascinate the tourists.
Keewaydin Island
The primitive beauty of this undeveloped island never fails to impress the tourists. This small island off the coast of Naples is a permanent habitat of wild boar, bobcats, white tailed deer, gopher tortoises and iguanas. In order to preserve the wildlife here, the island has been left untouched. There is no modern infrastructure like cars and roads, there are no bridges, there's nothing but pathways made up of dirt and sand. The only way to visit the island is by renting a boat. Once you're there you can enjoy your own white sand picnics with burgers and drinks served by the local burger barge there.
South Marco Beach
Known for its quietness and tranquility, this – one of the only two beaches of Marco Island – is a perfect spot to unwind your stresses and fatigues. You can involve yourself in many activities that tourists enjoy indulging in like going shelling and watching playful dolphins in the sea.
Otter Mound Preserve
This hardwood forested area is a wonderful sightseeing option you can spend your day at. Located in the Indian Hills of Marco Island, this preserve allows you to walk the mulched trail across the densely forested area. There are benches on the trail where you can sit and relax for a while before you jump to your feet again and continue walking.
Marco Murder and Mayhem
This is the fright seeing tour that most of the tourists love to experience. This two-hour tour is hosted by Martha Horror who has a reputation of being an expert on ghosts in the local area. The tour takes you through some of the sites that are known for being haunted.
This horror tour starts with a complimentary cocktail from Bistro Soleil which is located inside a presumably haunted hotel called "Olde Marco Inn." If you join the tour you will be made to visit five different haunted sites that include a cemetery and an ancient Indian burial ground that ages back to some 300 years. The guide walks with you sharing some spooky and scary stories that are associated with all these sites. Since many people believe it to be a made-up tourist attraction, they join the tour just for a change of experience.
The Dolphin Explorer
This is a survey company that takes you on dolphin eco-tours. Dolphin Explorer also happens to be the name of their 30 foot catamaran that can easily accommodate up to 28 people. It's a fun experience that starts with free beverages provided by the company. You're also given shelling bags if you want to collect some beautiful seashells that come in your way. Once on the tour you witness a variety of dolphins in their natural habitat.
One of the amazing specie of dolphins you get to see is a very rare breed of bottlenose dolphins.
Marco Island is famous for being the largest developed island in the chain of beautiful islands of Florida known as "Ten Thousand Islands". Like a definitive island, Marco Island too maintains its remote and isolated feel even though it is connected to the mainland by two bridges and is very close to Naples. All in all, Marco Island with its beaches and all its outdoor activities, serves as an ideal tourist destination that's full of wonders and delightful surprises.