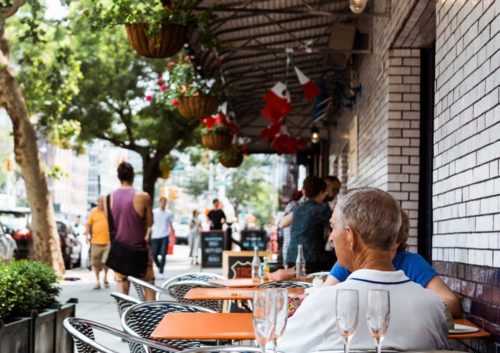 All major cities offer an incredible selection of bars, cafes, and restaurants and there is nothing more metropolitan than a Sunday Brunch with your friends. Miami, Florida is one of the best cities in the USA to enjoy a tasty brunch, like waffles and eggs benedict with a mimosa. With the great year-round weather sitting around a table with your friends for a Sunday brunch outside is a fun one-off vacation experience or tradition to have. If you live in the city or are simply visiting then keep reading to find out 10 great spots within the city to have a delicious brunch meal.
Warning: If you are hungry when you read this, let me warn you, that your mouth will probably water and you'll become ready to eat. So, get yourself a tasty treat and coffee and continue reading.
Brunch at The Daily Creative Food Co.
Address: 2001 Biscayne Blvd, Ste 109, Miami, FL 33137-5009
The brunch menu here includes a variety of wraps, many egg dishes like the Skinny Scramble, plus the classic Pancakes and French Toast.  Take your order to the outdoor seating from 07:00 am until 14:00 pm, on Saturdays and Sundays.
Lulu in the Grove
Address: 3105 Commodore Plaza, Coconut Grove, FL 33133
The trendy neighborhood food of Lulu's is sure to satisfy your craving for brunch, as the menu includes locally sourced and organic ingredients. They have many breakfast specials, a choice of 8 waffle dishes and more than 10 types of egg dishes. We suggest trying the house special, the Lulu Burger with a specialty cocktail or local wine. Lulu in the Grove opens at 9 am.
You can reserve your table here.
Peacock Garden Bistro
Address: 2889 McFarlane Rd, Coconut Grove, FL 33133
At weekends, you can have brunch at this family establishment from 09:00 am until 15:30 pm. The Peacock Garden Bistro has a beautiful garden for you and your friends to relax in as you eat brunch and sip on a glass of Prosecco. If the Monte Cristo Special, Crab Cakes Benedict, and Lobster Omelet don't take your fancy, check out the menu for some more tasty brunch treats.
>>If you love Miami, read 'Miami's Most Iconic Dishes' and 'Vegetarian Restaurants, perfect for 'Meat Free Monday' in Miami, Florida.<<
Blue Collar
Address: 6730 Biscayne Blvd, Miami, FL 33138
For a friendly brunch in a small cozy environment, head to Blue Collar, between 11:00 am and 15:30 pm. For the best grilled Asparagus and Blue Cheese, this is the place to be. Other options include Shrimp and Grits, Duck Confit Muffin and Lemon Buttermilk Pancakes with fresh blueberries and real maple syrup.
Blue Collar is located in the historic MIMO district, make your reservation here.
Green Street Café
Address: 3468 Main Hwy, Miami, FL 33133
Another eatery at the Coconut Grove is the Green Street Café and has been open for more than 20 years. If you love the traditional brunch classics such as pancakes, omelets, bagels, and French toast, check out this place. Pair your brunch with some bubbles. On the menu, they have a Bellini, Mimosa and French 52. Treat yourself this coming Sunday. Brunch is available from 07:30 am until 14:45 pm.
Yardbird Southern Table & Bar
Address: 1600 Lenox Avenue, Miami Beach, FL 33139
For an extended Brunch or a late start ,this is the restaurant to visit. Brunch takes place on Saturdays and Sundays from 08:30 am until 16:00 pm, so you can sleep in. If you can only visit once try Mama's Biscuits, using a secret recipe that includes butter and honey. There are 5 delicious flavors to choose from, that start at $7. If you prefer something healthier Yardbird has a range of fresh salads.  Pick your brunch meal from the online menu
Michael's Genuine Food & Drink
Address: 130 NE 40th St, Miami, FL 33137
A huge variety of savoury and sweet dishes are available for Sunday Brunch from 11:00 am to 15:00 pm. Top favs include Breakfast Quesadilla and Monkey Bread. If you are in need of 'the hair of the dog', take advantage of their drink deal, which includes a beer and a shot of Bloody Mary.
Other great brunch hangouts include Dolores But You Can Call Me Lolita, Batch Gastro Pub and downtown's Café Bastille. Where is your favourite place to have Brunch in Miami? Share your brunch photo with us on Instagram, use the hashtag #BrunchFE.