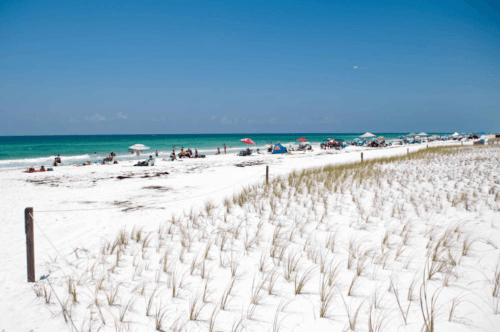 Panama City Beach is a city in Bay County, Florida. With a small population of about 20,000 people, the city is famous for many reasons. On top of those reasons is its sugar white sand beach which has a slogan of its own that says "The World's Most Beautiful Beach".
Panama City Beach has been declared as one of the busiest tourist destinations in the state of Florida. Its tourism industry is flourishing owing to a heavy inflow of visitors mostly from the Southern United States. That's mainly due to the city's proximity to other southern states of America. Panama City Beach is highly regarded among the students of the state as they crash on the beaches here during their spring breaks.
There's a lot to explore and see in Panama City Beach aside from the jaw-dropping beauty of its beach. We've selected some famous tourist destinations in the city that will make your visit here worthwhile.
Panama City Beaches
Panama City is blessed with 27 astounding miles of beaches that leave you speechless. Shell Island Beach is the most popular one among these beaches. Its remoteness from the mainland provides people the quietness and serenity they look for to sunbathe and swim. Shell Island Beach is only accessible by boat and has rolling white sand dunes, loggerhead sea turtles and is a common nesting ground for shorebirds. Another famous beach is in the St. Andrews State Park. It has an undeveloped and absolutely natural beachfront where tourists go crazy after the water sports. If you walk the trails in the park you can spot deer or two in their natural habitat.
Museum of Man in the Sea
This museum was founded in 1976 by the "Institute of Diving" which is owned and being run under the collaboration of former Navy SEALS and marine scientists. This is an ideal place if you have an interest in man and his historical undersea adventures. Aside from the interactive exhibits of the museum and fascinating displays, the visitors can get inside submarines and even wear a brass diving helmet in order to realize the weird techniques divers of the olden days used to implement to breathe undersea.
Sea Dragon Pirate Cruise
This place mostly attracts children. Sea Dragon Pirate Cruise is an 85-foot replica of a pirate ship where children get a chance to dress up like pirates, have sword fights, get tattoos and have their face painted. The crew of the ship is very cooperative and helps the children fire a pretend cannon, swab the deck of the ship, and have gunfights. Other activities include finding a treasure map and hunting for the loot, enjoying pirate-themed music and dancing. Parents accompanying their children can sit back and relax and enjoy the view as the ship travels from St. Andrews Bay to the Shell Island.
Panama City Parasail
If you're really in for some adrenaline rush then you should sign-up for Panama City Parasail. The company is owned by a family and the captain who hosts the parasailing is an approved candidate from U.S. Coast Guard with 30 years of experience in leading parasailing adventures behind him. There are other activities that the company offers like banana boat rides where you're tied to either a motor boat or a jet ski and have to maintain your balance on a banana boat while the captain tries to tip you into the water. The company also takes you on tours with guaranteed dolphin sightings.
Russell-Fields City Pier
Panama City beach welcomes you to walk over the longest pier in the Gulf of Mexico. This amazing 1,500-foot pier is wide and very well maintained. People love the fishing opportunities provided here. Also, some of them just walk the length of the pier to spot various marine creatures like sea turtles, fishes and stingrays. Moreover, the pier is a lovely spot to see the sun rising and setting over the Gulf of Mexico. Tourists walk to the very end of the pier to witness sunrises and sunsets.
Panhandle Helicopter Tours
Panhandle Helicopter Tours is also a family owned business that provides brilliant helicopter rides over the Panama City Beach area. The rides are programmed according to the preferences of the tourists. There are rides for beginners and for panhandling addicts as well. Shark enthusiasts can go for Shark Run to view bull sharks and hammerhead sharks from the air.
Panama City Beach has some of the best facilities for water sports and air tours. There are sugar white sand beaches with waterfront restaurants to die for and various conservation and marine parks where you can get used to the variety of local fauna and exotic marine life. The city is also considered a heaven for scuba divers who can find amazing artificial reefs located offshore. Panama City Beach has various adventures for children as well, making it a superb family-friendly vacation spot.