Naples is a small city in the Collier County in Florida. Since it's not a very big city, Naples only has a population of not more than 25,000 people. However, it happens to be one of the wealthiest cities in the United States.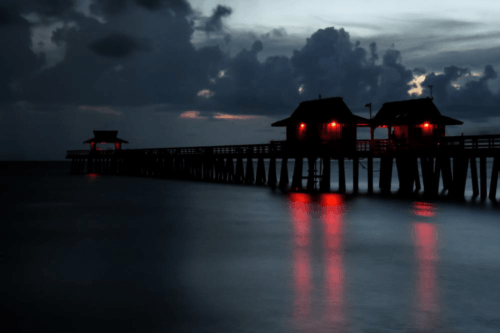 Naples is famous for being a very expensive state with super expensive real estate. The houses for sale in the city cost more than $40 million. You can imagine the kind of rich people who live here by the fact that Naples has the second highest ranking in the U.S. proportion of millionaires per capita.
Local and international tourists on the other hand, love to visit this beautiful city for the relaxing environment that it has to offer.  It's mostly known for its sports resorts and golf clubs. Popular sport activities over here  include sailing and tennis, but it's mostly golfers who love to vacation in Naples and play golf in Tiburón Golf Club in Ritz-Carlton Golf Resort.
The tourism in Naples might be a little costly, but it's totally worth it. We've shortlisted some of the best tourist attractions in Naples, Florida that you must visit if you're planning to vacation here this summer.
Delnor-Wiggins Pass State Park
If you go 12 miles north from Naples you'll come across this beach that is often referred to the best in the city. The beach stretches to a whooping 166 acre and has leisure activities that are nothing short of being magnificent.
The beach has its separate parking, bathrooms, rental equipment for snorkeling, awesome food stands and terrific picnic spots. Delnor-Wiggins Beach is known for its crystal clear water and beautiful seashells.
Naples Pier
Naples Pier is located south of Naples beach. It's an expansive wooden boardwalk that you cannot miss. It stretches to over 1,000 feet over the Gulf of Mexico. Naples Pier is a major tourism spot as it provides stunning panoramic views especially at sunset. People visiting in summers usually go the pier to see the beautiful fireworks on 4th of July. It also happens to be a very common and beloved fishing spot for both local and international tourists alike: it doesn't require fishing license and there is plenty of space for casting fishing lines!
You do not have to pay anything to enjoy the beautiful views that Naples Pier has to offer. Anyone can visit anytime and watch amazing sunrises and sunsets.
Naples Botanical Garden
Naples Botanical Garden is located southeast of Naples downtown. If you happen to be a nature loving tourist then this wide variety of flora spread over 170 acres would bedazzle you for sure.
Naples Botanical Garden consists of more than 1,000 species of plant kingdom in its nine tropical themed exquisite gardens. The garden has guided tours of the facility every day and is usually visited by school children for school educational activities.
Clam Pass Beach Park
If you travel 6 miles north of Naples you'll get to Clam Pass Beach Park. It's one of the most visited tourist destinations surrounded by stunning nature.
The beach is famous for its 3,000 foot boardwalk. Tourists walk the length of this boardwalk or take a tram ride. You will get to walk through some beautiful mangrove forests.
You also get to see various species of birds and alligators as you make your way to the end. The boardwalk ends on white sand beach where you'll find all the facilities including restrooms, picnic spots, snack bars and beach equipment rental shops. If you're an adventurous type then go for kayaking across the boardwalk to explore the wilder side of the park. You can also canoe to get closer view of the 35 acre park.
Corkscrew Swamp Sanctuary
Located at some 30 miles northeast to Naples, this is a spot that nature lovers swoon over. These are basically marshlands spread over 11 acres of land. This swamp sanctuary happens to a home to trees that are more than 600 years old. This place also happens to be a sanctuary for otters, endangered birds and alligators. Being a swampland this place gives you an idea what Florida was like before it was founded and developed. That is because the land of Florida, when it was founded, was a vast swampland. You can take a self guided tour of this three mile sanctuary that normally takes about three hours to complete.
Naples is a city that charms tourists with striking nature and its unique flora and fauna. The stay in Naples is also as entertaining as travelling around the city. This is because most of the resorts have in-house spas and beautiful art galleries that add complimentary value to your stay here.
After having a beautiful day in the city, you should take a long relaxing stroll in front of the expensive beachfront houses situated on the "Millionaires' Row". That would indeed be a rich way to end the day…pun intended.