Florida has it all! A wealth of attractions, natural beauty and spectacular weather all year round. The only problem is it has many great places to visit, it's virtually impossible to experience them all.  Most people stick the theme parks and beaches. But for everyone looking for something a little different, here is your guide: Off the beaten path in Northwest Florida.
Search for alligators in Wakulla Springs State Park, Florida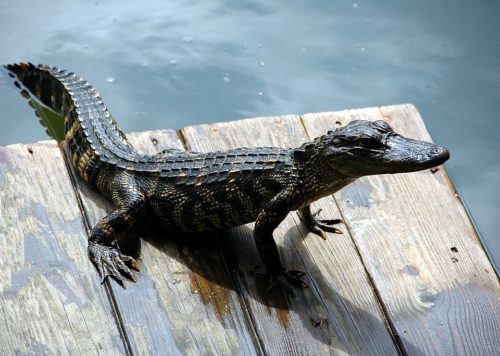 Nestled 30 km (19 miles) south of Tallahassee, is one of the largest and deepest freshwater areas in the USA. It can be found in Wakulla Springs Sate Park. The conditions in the park are ideal for the prehistoric reptile, the alligator. Every day the park operates a boat trip, giving you the perfect opportunity to see these magnificent creatures, named 'el lagarto' by the explorer Christopher Columbus, when you visit.  Florida has one of the largest populations of gators in the World, with approximately 1.25 million, so there is a great chance of seeing one of these 82 teethed creatures.
Eat world-class oysters in Apalachicola Bay
Spend the day in the tranquil and naturally luscious St George State Park. Gorgeous white sandy beaches and clear blue ocean, an emblem of Florida, are here in abundance. What makes the park special is that they are crowd-free. There are also wondrous trails for the perfect stroll through the native forestry.  When you are feeling mega relaxed and hungry, why not head to the neighboring Apalachicola Bay. This is the home of the delicious and extravagant oyster. They are so fresh. If you love seafood, this is certainly an opportunity to good to miss.
>>Do you love food? Check out 'The Best Food Tours in Palm Beach<<
Learn about the Civil War in Pensacola
Before Pensacola became the birthplace of US Naval Aviation it had a diverse and eventful past. It is believed that a Spanish settlement existed in Pensacola as early as 1559. Later they were also subject to the rule of both the French and English. Unfortunately, due to extreme weather conditions, a lot of structural damage occurred and many properties were destroyed. Most recently, Pensacola became a successful seaport and it became a military hub during the American Civil War (1861 to 1865).
Today there are some noteworthy locations to visit to help understand its history. Travel across the drawbridge at Fort Barrancas, the first hostile shots of the Battle of Pensacola (1814) are believed to have been fired there. Also, visit the well preserved Civil War fortification in Fort Barrancas. Be sure to add a walk to the top of the Pensacola lighthouse, to your itinerary. This lighthouse survived all federal bomb attacks during the Civil War.
>>Find out about other great activities in Pensacola<<
Scuba Dive in Destin, Northwest Florida
Perfectly positioned between Pensacola and Panama City, Destin offers a great location to scuba dive, regardless of your ability. The warm gulf water is a scuba divers' dream, the area has coral covered limestone sea shelves that are surrounded by colorful fish and other ocean wildlife. Many different types of crafts and vehicles are submerged below the water's surface, just waiting for you to have an adventure. You can expect to see colorful fish as they swim through sunken boats, liberty ships, aircraft and army tanks. There are multiple tour operators that have diverse trips depending on your ability. Some do include training to provide safety advice and confidence to new enthusiasts.
>>Read about the beauty of Destin, Northwest Florida on FloridaEscape.com<<
Camp at Big Lagoon State Park
Officially a state park since 1977, Big Lagoon State Park is great for affordable camping in northwest Florida. While its facilities are routinely cleaned, it also has great activities both within and nearby the park.
To the south of the park lies a large saltwater lagoon. Explore the waters in a kayak, canoe, paddleboard or maybe even swim. Be sure to take a while to admire the surrounding beauty, it is breath-taking. If you are feeling particularly adventurous, you can paddle to the Perdido Key's and visit picture-perfect beaches. The state park is also home to a man-made freshwater pond, where alligators have made their home, it is definitely worth a trip. If you enjoy walking this park has safe boardwalks and trails that can be discovered throughout the 705 acres.
7 miles from Big Lagoon is the National Naval Aviation Museum, the largest of its kind in the World. Get up close and personal with a wide variety of planes within its impressive 150 collections. All are magnificently restored. The collection includes rare flying machines, some were record breakers. Don't forget to make some time to have even more fun in the 3D flight simulator.
Which one of these is most appealing to you? They offer a variety of activities, many of which are special to this part of the sunny state of Florida.