The bright lights of the big city here in Jacksonville are illuminated by the waters of the Atlantic and the St. Johns River in this popular vacation destination designed for family fun or just business. Our list of Preferred Hotels offers beachfront to riverfront rooms and suites.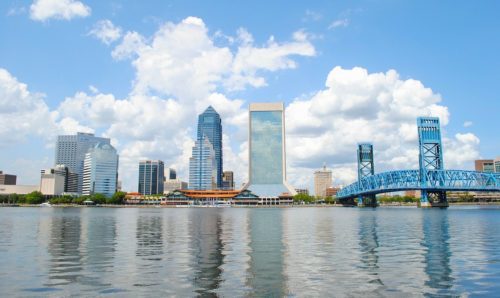 Spend a day at the Jacksonville Zoo and Gardens, a day at Jacksonville Landing that hosts live music, free festivals and dining on the river, or a day on the waterslides at Adventure Landing water park or just soaking in the sun at any of the gorgeous white, sandy beaches, including Atlantic, Jacksonville, Mayport and Neptune. Explore a colorfully diverse downtown amidst a pretty skyline, from museums to the Sports Complex to the charming antique stores in Avondale to the cafes of San Marco by walking, taking the trolley, the Skyway above the streets or a water taxi from stop to along the Riverwalk. Or stay put for a while and shop at St. Johns Town Center, where there are 1.1 million square feet of open-air shopping heaven on earth.
Hotel offerings are as diverse as this trendy Southern city – from high-end resorts to name brand hotel chains. Unwind beachfront in a king bed suite or a smaller studio with soft sheets, plush robes, Wi-Fi, a world-class spa, a private balcony view of the ocean and a whirlpool tub, relax with a cup of freshly brewed coffee or craft beer from an onsite BrewCafe or lounge poolside under sunny skies. Choose to dine by room service or at a table for two at any of the award-winning restaurants with international fare. Be a guest where amenities go above and beyond the ordinary, such as a winery tour; round of golf; VIP treatment at the casino; hiking, fishing or ecological expeditions; or a hot air balloon ride. The sky is the limit at your stay in Jacksonville!