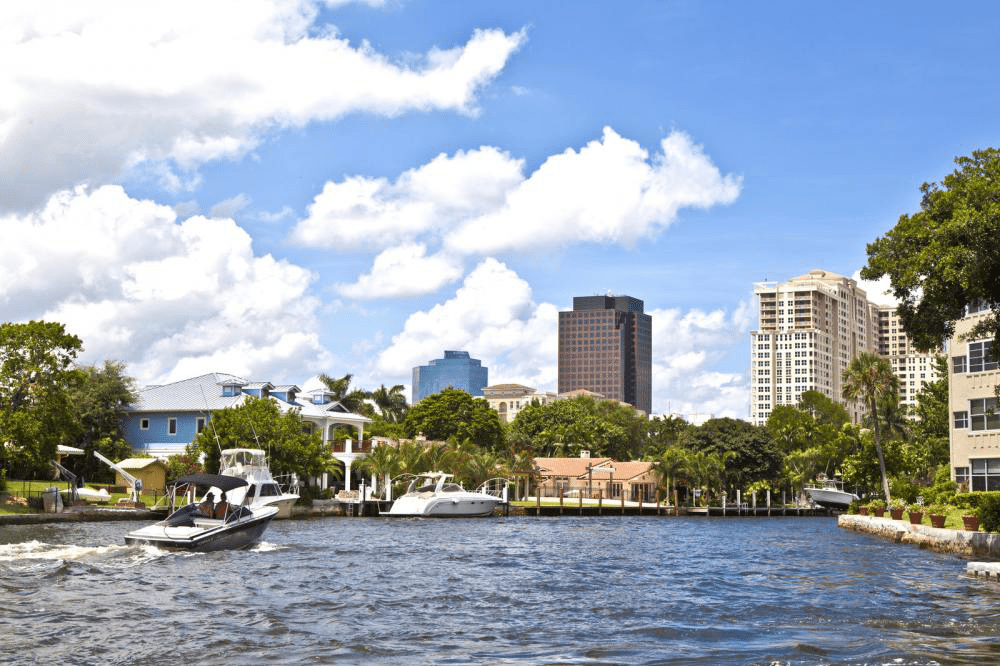 Sure the city has a peculiar name to go by considering the American standard of naming cities, but this Floridian city has a vast history that led to it being named after a fort. This city is named after a series of forts that were built by Americans during the Second Seminole War fought during 1835-1842 against the Native Americans called Seminoles.
Like every other Floridian state, Fort Lauderdale is also a typical city in Florida with sun soaked golden beaches, warm waters, terrific water sports and of course delectable food and vibrant night life. Fort Lauderdale is famous for its cultural events like annual festivals and carnivals that take the energy of the city up by several notches. Some of the famous tourist activities in the city include shopping on Las Olas Boulevard and going for the terrific gondola rides on the very Venice like canals that run through the city.
We'll discuss some beautiful tourist destinations in the city of Fort Lauderdale that you must visit during your precious stay in this "Residential Resort City".
Fort Lauderdale Beach
Fort Lauderdale Beach is also known as the heart of the city. Due to its central location, it has become the most visited tourist spot in the city. Fort Lauderdale Beach is known for its spring break madness when thousands of students land on the beach every year to spend their spring break. Fort Lauderdale Beach maintains a high reputation because of its stunning stretch of ocean and golden sand. The reason this beach has become the number one tourist priority is the fact that there is variety of shops, hotels and cafes that run side by side on the pedestrian walk along the beach.
Bonnet House Museum & Gardens
This extraordinary landmark is listed on National Register of Historic Places and is considered a must visit destination. Bonnet House Museum & Gardens blends history, architecture, culture and ecology of the city into one spectacular place. Bonnet House covers a huge 36 acres of land that once used to be a winter residence of Bartlett family. It was built in 1920 and now it displays a precious collection of art pieces and personal treasures. What adds to the value of this place is the surrounding oasis type thick coastal wilderness and wild gardens that overlook the picturesque Fort Lauderdale beachfront.
Hugh Taylor Birch State Park
Hugh Taylor Birch State Park was an exorbitant gift from Hugh Taylor Birch, a renowned attorney for "Standard Oil", to the people and residents of Florida. This estate is a whopping 180 acre park with picnic areas, Birch House Museum, paths leading up to the beach, freshwater lagoons, canoeing shops and cycling tracks. The park is a home to exotic animal species which include gopher tortoise, indigo snakes, turtles, butterflies, grey squirrels, marsh rabbits and more than 200 species of birds and ducks. If you're a comforting nature lover who wants to spend some quality time amid the lush green acres away from the crowded city life, this state park is a place for you.
Antique Car Museum
One of the most unique tourist destinations that the city of Fort Lauderdale has to offer is "Antique Car Museum". Actually, this pays homage to the Packard Motor Company. The entire collection of antique cars here is laid and displayed in a replicated Packard showroom. This amazing memorabilia includes pre-war Packard cars. The museum also displays a wide variety of antique car pieces like gear shifters and hood ornaments. The museum not only takes you back in time, but also sheds light on the changing trends and advancements in the automobile industry.
Museum of Art Fort Lauderdale
If you have a developed taste for modern art from around the world that reflects various international cultures and art pieces, then Museum of Art Fort Lauderdale is not a place to be missed by you. The foremost feature of this astounding museum is that it exhibits an eclectic collection of modern art made by renowned artists from across the world. This 75,000 square foot museum is located in a modernist building that poses as a significant art on its own. The most sought after artists conduct their auspicious exhibitions over here at different times of the year. For special exhibitions, this museum has a reputation of selling more than 700,000 tickets.
Fort Lauderdale has come a long way developing itself as a city over hundreds of years since its beginning as a fort in early 19th century. Fort Lauderdale wasn't always known for its tourism industry, it got this reputation in the very late 20th century. From the drained swampland it used to be, the city took this many years to become what it is today – a destination for reveling tourists that offers boating opportunities, flourishing wildlife, beaches and a very busy sea port.