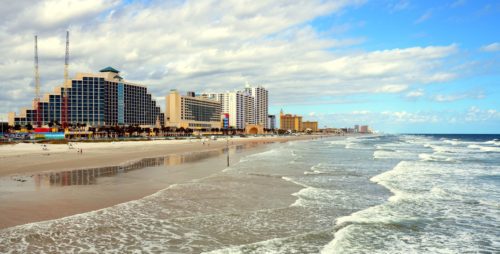 Florida, also known as The Sunshine State, is a very popular vacation destination anytime throughout the year. When it comes to Spring Break, Florida is the only desirable destination for multitudes of people, young, old and every age in between. If you've never been to Florida but are considering it for Spring Break, you may be wondering which of the many locations is best. Listed below are some of the best Sunshine State spots for fun, relaxation or both. One of them is bound to be a perfect fit for you.
DAYTONA BEACH
Location: Daytona Beach is on Florida's east coast between Jacksonville and Melbourne.
Famous for: Obviously, Daytona Beach is on the map for a very popular race, The Daytona 500.
What to do: Many other special events besides the big race occur in Daytona annually. Mid February begins the annual Dirt Car Nationals at Volusia Speedway Park. March 10, 2017 begins Bike Week which is roaring fun from start to finish. Daytona Lagoon Water Park is fantastic for all ages and family friendly. Daytona never lacks for activity but with all that, don't forget to enjoy the beach.
Where to stay: It seems odd that in Daytona, one of the best hotels would be named The Hawaiian Inn but that is, in fact, the case. All rooms have a seaside view and as a special treat, there is a Luau Dinner Show that is spectacular for delicious food as well as entertainment.
PANAMA CITY BEACH
Location: Panama City Beach is located on the beach in the panhandle between Fort Walton and Port Saint Joe.
Famous for: It's famous for college age spring breakers showing up in droves and partying in a rowdy manner for days on end and leaving the beautiful white sand beaches trashed upon departure. If you're trying to avoid that, the good news is that the city has really cracked down on misbehaving kids with fake ID cards. Alcoholic beverages are no longer allowed on public beaches and extra law enforcement is heavy during spring break in an effort to make it more family friendly.
What to do: Enjoy the finest of seafood meals at a local icon, Captain Anderson's Restaurant & Waterfront Market, located on North Lagoon Drive. Rent a pontoon boat and spend a day on Shell Island. If you're lucky, you'll see dolphins up close. Enjoy shopping at familiar stores plus plenty of boutique one-offs at Pier Park and take a stroll on The Pier at night when it's most romantic.
Where to stay: For a nostalgic old Florida feel, try the Pineapple Villas. You won't be near the beach or a short walk to the beach. You'll be on the beach in a postcard like setting featuring a pink cottage. Another favorite is Boardwalk Beach Resort Hotel and Conference Center. Though much larger, Boardwalk does a good job combining the best of old Florida with all things new and up-to-date.
SAINT PETERSBURG
Location: St. Pete is on the west central coast of Florida immediately southwest of Tampa but still on the bay.
Famous for: St. Pete and nearby Clearwater have bragging rights to some of the most beautiful white sand beaches in the entire world.
What to do: Besides lay about or play on the stunningly white beaches, visit one of the many boutiques or art shops along the waterfront. Go sailing or paddle boarding in the gentle waves of the gulf. Events specific to Spring Break include bar & nightclub parties, social gatherings, craft beer and wine tastings as well as various sports events and the possibility of a parade is always high. St. Pete loves its parades.
Where to stay: Private condos are always a favorite but people also love Thunderbird Beach Resort which has an absolutely fabulous location to nearby shopping, dining and is, of course, on the beach.
MIAMI
Location: Miami is a vibrant city on Florida's southern east side.
Famous for: Miami is famous for 1930's art deco architecture, golden sand beaches and glitzy nightlife with a heavy Latino influence.
What to do: You can enjoy the beaches and the tropical sunshine but there is so much more. Shopping, art galleries, museums and parks are everywhere. Most people want to dance the night away at least once or twice during a visit and there are dance clubs galore to choose from. Two favorites are the very decadent Fontainebleau and the steamy Hoy Como Ayer. If you're a sports fan, check out the Marlin's schedule. Fans are allowed to watch spring training on specific days. Don't forget to indulge in some delicious Cuban food at one of the many restaurants from hole in the wall types to fine dining.
Where to stay: James Hotel is a boutique style establishment boasting the famous art deco style of architecture. In fact, some people visit Miami just to study, photograph or draw these fine old buildings.


ORLANDO/LAKE BUENA VISTA

Location: Orlando, also known as City Beautiful, is located in central Florida. Lake Buena Vista is considered a suburb of Orlando.
Famous for: The Orlando area, including Lake Buena Vista, is best known for family friendly theme parks which include Walt Disney World, Universal and SeaWorld.
What to do: Most people come specifically to visit the theme parks. Disney's Magic Kingdom, Animal Kingdom and Universal's Wizarding World of Harry Potter are among the most visited. If splashy fun is your thing, check out Disney's Typhoon Lagoon. The wave pool is one of the biggest and best ever built. Special events during spring break include EPCOT's International Flower and Garden Festival, a colorful and beautifully scented extravaganza of the best in flora and fauna from around the globe. Enjoy upscale shopping at Disney Springs or go bargain hunting at Tanger Outlets.
Where to stay: There are plenty of resorts in the area but one standout is Lake Buena Vista Orlando Resort and Spa. After a few days at theme and water parks in the area, take a day to relax and unwind with a massage, mani-pedi, facial or all three. Kids will love the pool with a detailed pirate theme.

Wherever you decide to spend Spring Break in Florida, there is something for everyone young and old alike. Don't forget the sunscreen!