If you are coming to Florida and want to escape and unwind, try visiting these ten "ohmmmm my goodness" out of body experiences that will leave your inner Buddha smiling, relaxed, centered, and in complete bliss! From Miami and the Florida Keys, to St. Augustine and every town in between, your hidden Zen is waiting to exhale.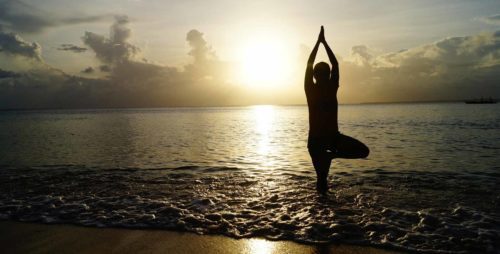 This Florida Keys experience combines the serenity of the sea with a unique yoga adventure. Whether you are a beginner or advanced yogi, the spiritual bond between yogi and the sea will encourage a customized individual or group practice. Imagine expanding your prana to the ocean's depths, practicing your sun salutation to a real-time sunset, and freeing your mind and spirit on a zen-sory trip! Your mini ocean voyage will depart from Porky's BBQ. As you board the Spirit and embark on your meditative excursion, you will release all tension and worry through a one hour and fifteen minute class. At the conclusion of your practice, enjoy celebratory bites and refreshments. Students can purchase single, multiple or private sessions.
Whether enjoying Yoga on the Sea for a day, a week, or a session, you can enjoy the comfort and relaxation at any of these Key West Florida Hotels.
Tucked away and hidden from the hustle and bustle of Miami life is Zen Village. This quaint Buddhist village in Coconut Grove offers a unique communal setting in which to explore multiple Zen practices such as Yoga, Tai Chi, QiGong, Meditation and Family Massage techniques. You will relax into an Inner Practice facilitated by Master Chufei Tsai through Ancient Taoist Traditions. Master Tsai brings years of extensive knowledge and cultural experience through her years traveling extensively around Asia and Europe. She has trained many Masters to teach the Inner Practices in their own communities. Zen Village is an intimate, unique community that explores alternate forms of healing treatments and education through weekly Sunday Service, Workshops, Seminars, and Wellness Education Classes.
Just steps away from Zen Village your ultimate Florida Vacation can be enhance by booking at our Florida Escape Hotels
The lush tropical Fontainebleau Hilton Resort has been the crown jewel of Miami Beach since is legendary grand opening in the mid '50's. Long known for being the home to movie stars, celebrities and notables, this hotel boasts one of the most exclusive and unique spas in Florida. Lapis Spa is a liquid elixir and perfect for the individual or couple seeking refined pampering and relaxation. Choose from a number of tantalizing ritual water journeys such as the Path to Relaxation, Passage to Wellness, Voyage to Regeneration or Journey to Transformation. This rare spa experience is available to hotel and non-hotel guests and is a must do for anyone visiting South Florida for a luxury spa experience.
Newcomers are welcomed at this mindful meditation center. You will be encouraged to relax into a full immersion of mind, body, and spiritual practice within a confidential, face-to-face setting. Just imagine your own private dokusan. Or if you prefer to join others in spiritual essence, you can attend a Sunday morning, formal Zazen Meditation. Arriving at the Zendo requires that you take off your shoes before entering the building and seating is unassigned. Students will sit facing a wall. If you have your own meditation cushion, feel free to bring it along; but it is not necessary to bring anything at all. The program is different every week, so check the schedule prior to arrival. Complete Zendo etiquette is required as well as punctuality if you are a first-time student. It is advisable to arrive 20 to 30 minutes prior to the 9:30 am service on Sunday.
Check out the latest rates and packages in our Floridaescape preferred hotels for your overnight accommodations
Is your Samurai Warrior waiting to be unleashed? Counting down from 5, 4, 3, 2, 1…breathe in/breathe out and let it go! Take your spiritual journey to new heights at the amazing Orlando Circus and Flying Trapeze School. Expressing your inner Samurai can mean flying through the air in a warrior's pose or soaring to new heights of experience through guided and personally instructed aerial techniques and art form.
There is great healing in remembering your wild divinity. Unleash your passion, your heart. Live and breathe prana through aerial artistry, trapeze, trampoline, hoops and silk.
There is so much to see, do and experience in Central Florida. Book your Zen vacation accommodations today!
If finding hidden healing spots in Northern Florida speaks to your inner chi, then The Healing Farm is calling your spirit.
The Healing Farm is a hidden oasis protectively situated in the undisturbed wetlands of picturesque and historic St. Augustine. It is conveniently located within five minutes from downtown and can be included into your travel schedule as a day yoga retreat or a just a private yoga session with Gita. As a spiritual traveler seeking to maintain your personal fountain of youth, Gita Yoga and The Healing Farm offers private massage, individual yoga, workshops and one-day stress-management corporate programs combined with authentic meals and vegetarian delights.
Whether you are planning a day trip, weekend get-a-way or a weeklong vacation, use our guide to find the best accommodations in North Florida.
Enjoy a chill weekend or vacation at this natural Florida gem. The Florida Springs natural aquifer system pumps over 550 million gallons of crystal clear water a day through a vast unique system of springs.
If your version of Zen is getting back to nature, then you will enjoy camping, equestrian trails, boating, tubing, swimming, snorkeling, scuba and cave diving. You will have plenty of reasons to stay in the moment and explore the purest natural water and eco-system in Florida. Florida Springs beckons your visit to this lush, tropical cocoon and water journey through native Weeki Wachee, Silver Springs, Rainbow Springs, Silver Glen Springs Alexander Springs, and Homosassa Springs. This is a perfect couples or family experience; or if your companions Fido and Fifi need some sniff time, they are allowed to come along, too! Call ahead to find out current events and happenings before planning your excursion or overnight stay.
Has soaring tuition fees left your muscles tense and your nerves on edge? If so, the next time you visit your kids on campus in Gainesville, plan a side trip to an authentic Ayurvedic Health Retreat.
Located in historic Alachua County, The Ayurveda Health Retreat offers a beautiful yoga studio, retreat center and a yoga ashram. Your R&R Retreat will pamper you with the royal treatment, daily yoga, meditation and pranayama classes, vegetarian meals, cooking classes and even an Ayurveda Health Consultation is available to you if your stay is 5 days or more. This exclusive north Florida retreat offers inclusive day programs as well as 3, 5, and 8 day retreats. The Ayurveda Health Retreat does have on-site accommodations, however, you check out alternate overnight experiences too.
PAST life regression takes on a new twist! If you have dreamed of being Ponce De Leon or Christopher Columbus for the day, love history and the study of the past, this could be the day trip for you and your friends! Join the Florida Public Archaeology Network and inquire about Public Archaeological Shipwreck Tours (PAST) or learn how you can volunteer to assist with various archaeology digs, events, archaeology field trips, lab work and the collection of ancient artifacts and data. FPAN is a program of the University of West Florida. Opportunities are seasonal and programs are available at various locations throughout Florida. Call ahead to inquire about the specific regions that are seeking volunteer help and offer other programs for adults, children, and schools.
What do you experience when your healing practice takes you beyond relaxation into a world of meditation? Paralounge!
Paralounge invites you to explore the depths of your internal rhythms and enhanced vibration through music and the magic of drumming. Sacred sound healing lives within you! Is your sacred place of healing healthy and vibrant? Are resonating to the beat of your own drum, your own tune, and your own unique musical vibration?
Join drum circle enthusiasts as well as performers from all over the world for this colossal drumming event. Indigenous musicians create this lively spirited event; bringing together a harmonious, creative, musical energy that inspires cosmic change, celebration, global expansion, and consciousness. Individuals, families, and children are invited to this empowering event.
Check the schedule for events, workshops and festivity dates and times.
Accommodations at Paralounge are rustic, primitive and somewhat limited. If you seek a more cultured overnight sleeping experience, a few area hotels are available for this weekend musical sojourn.