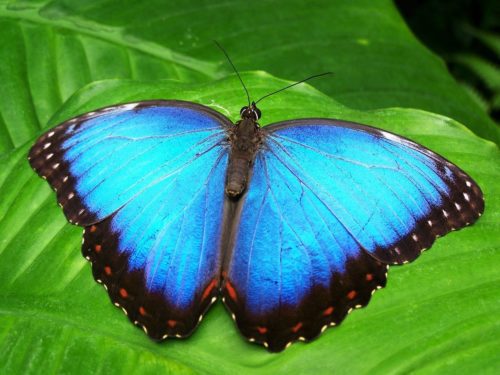 Even though Florida is one of North America's top tourist destinations, there are still some places where you can get out and experience the wild. Whether your idea of an adventure in nature is a trip to the zoo or a dangerous trek on the edge, you can find something wild enough to suit your taste in Florida. Give one of these locations a try.
Butterfly World is a huge enclosure full of blooms and butterflies. This is an amazing way to get close and personal with these lovely winged creatures. You can take a stroll through the bug museum before starting on the butterfly tour to learn about species both native to Florida and from all over the world. If you go, be sure to wear bright colors and floral scented spray—you may have some butterflies land on you! Nature lovers will also be glad to know that proceeds from the center go towards preserving Florida's endemic butterfly species.
Gatorland in Orlando is a great way to see Florida's most notorious reptiles up close in a safe environment. There are several fantastic experiences to choose from at Gatorland, including a night watch of the swamp, feeding the alligators, gator wrestling shows encounters with some of the world's most dangerous snakes, and even a zipline right above the eyeballs of giant alligators! This is certainly not for the faint of heart, but it is a lot of fun.
Three Sisters Springs is one of the best places to meet manatees. Here, dozens of manatees come to enjoy the warm waters of the river. You can kayak or snorkel above these gentle creatures, allowing them to pull you into their underwater world. As with all manatee interactions, it's best to be respectful of the animals and simply observe them.
Disney's Animal Kingdom is, in a way, even more, magical than Orlando's famous Disney World. The Nature Conservancy and its affiliates have worked hard to take a piece of overused land and restore it to its former beauty. What was once a deforested wasteland is now a lush natural environment for local plant species and the animals who thrive there. You can take the two-hour trail to see tortoises, bald eagles, and if you're lucky, even panthers!
Tigertail Beach is one of the few truly untouched beaches left in Florida. It's not exactly the most beautiful sandy shore, so if you're looking to get a great tan by the surf, this is not your place. However, if you're looking for a lonely place away from crowds, then you've found your paradise! To get to Tigertail, you have to take a long walk down the shore from the parking lot, wade through a swamp, and be prepared to get wet and sweaty. The end result is worth it, though, when you find yourself on a deserted shore covered with lovely shells and sand dollars.
Okefenokee Swamp is for the most daring of travelers. Here, where the most forbidding landscape has defied land development and human habitation in general, the ancient wilderness breathes with danger. Some of America's most deadly species live in this swamp, including wild alligators and water moccasins. You can lose yourself in the ancient rhythm of nature on a boat trip down the misty waterways here, immersing yourself in a world where time takes no toll. If you're not quite up to the adventure, there are plenty of activities at the visitor center, including nature shows, an old homestead, and a replica steam engine train.
Whatever you choose to do on your Florida vacation, make sure you make some time to spend in Florida's wild side. There is so much to see and do in this unique natural environment.  You'll be glad you did!