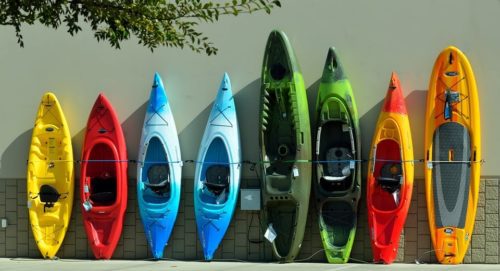 Are you planning to go kayaking? Yes? Then read this article to make sure you don't forget to pack something important and you know what to do before venturing into the water. This post focuses on those who are kayaking for a short pleasurable trip and/or with a tour group. If you are going on an extended or independent kayaking trip this is not the list for you.
Kayaking Packing List
For an enjoyable day out on the lake or river kayaking here are some handy suggestions to enjoy your day on the water.
Sunscreen
Wherever you are kayaking always take sunscreen, at least factor 30. With the cool water and breeze, you may not be aware of the sun damage happening to your skin. You can prevent sunburn by regularly applying sunscreen. Did you know that the factor represents the length of time the sunscreen protects your skin for?
Pack your favorite hat
Wear your favorite hat to keep the sun out of your face and take some great selfie photos throughout the day.
Take plenty of water
Take enough water to prevent dehydration. It will really put a dampener on your whole experience if you spend the best part of the day thirsty. If you are unsure of how much to take with you, a good rule of thumb for a day trip is to calculate your weight in pounds and divide it by 2, and that's how many ounces of water to take with you. Never take less water than this, unless of course, you are only going on a one-hour kayak trip.
To swim or not to swim
Can you imagine kayaking to a beautiful cascading waterfall with a crystal clear or emerald green pool at its base? Now, imagine everyone around you jumping into the water for a refreshing swim, but you can't because you forgot your bathing suit. Doh! Pack a swimsuit, they don't take up much room, just in case.
Additional Clothing
Guess what? When you go kayaking you'll probably get wet. No surprise there. You never know how wet you might get so, always pack an additional set of clothing. At the end of your day out on the water, it will be lovely to put on some clean dry clothes instead of returning home wet and uncomfortable.
Always pack insect repellent
Bugs and insects out on the water can be equally as vicious as those on land, so be prepared and take a reliable insect repellent with you.
What to do before paddling
If you are hiring a kayak and going it alone, without a tour group make sure you check the weather forecast before leaving home. Safety and fun are the most important parts of kayaking and it's neither fun nor safe to be caught in a thundering rainstorm or unprotected on a blisteringly hot day. Also, be sure to research safe kayaking spots where other kayakers share their experiences so that you know of any dangers.
If you are going kayaking with a tour group, don't just pick a cheap one or the one closest to your hotel. Instead, do a little research and check if their guides are experienced kayakers with first aid qualifications. Also, note the size of the tour group. Smaller sized groups mean you'll get more attention from the tour guide.
Wherever, you choose to spend the day kayaking wear comfortable easy to move in and breathable clothes. Kayaking is a lot of fun, but can also be a hard and sweaty adventure. Jeans and jumpers will be restrictive and won't help towards making it a fun day. Instead, wear a breathable t-shirt and shorts or moveable leggings.
Being out on the water is a wonderful experience and may provide you with many picturesque opportunities to capture on film. If you want to take a camera or your phone, consider a waterproof protector, and avoid any water-related accidents.
As a fan of water activities, you may find 'Kayaking Spots in Central Florida' and 'Florida's Red Tide' interesting.