St. Augustine is a southeastern city in the United States located on the Atlantic coast of Florida. This city is referred to as the "Old City" and "Ancient City" because it's one of the oldest cities of the United States. St. Augustine was founded in 1565 by Spanish Explorers, and since then has been the oldest establishment of European settlement within the United States' borders.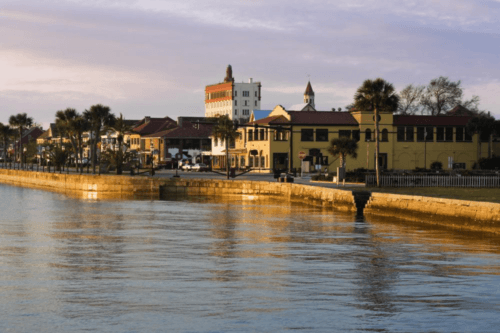 Owing to the St. Augustine's historical significance, the city has amazing archaeological sites that have hosted numerous archaeological digs only to unearth artifacts of Native Americans and extremely well preserved Spanish fort. We have picked a handful of destinations that will provide a phenomenal sightseeing value to you while you vacation in St. Augustine.
Castillo de San Marcos
The best that this city has to offer is this massive defense fort that took Spanish settlers 23 years to build and was completed in 1595BC. This gigantic fort has been constructed with a local beach stone called "Coquina". This particular stone made the walls of this fort thick, fireproof and impenetrable for the British troops who attacked it multiple times in attempt take over the city it guarded. The city this fort defended was burnt in 1702 by a massive fire that broke out during the American Revolution. As of today this structure is considered as a National Monument and the oldest masonry fort in the U.S. Moreover, the fort is used for many special events that are held in the fort's interior courtyard.
Lightner Museum
If you're the sort of person that goes crazy after historical artifacts and arts display then you must visit the four storey museum that once used to be Alcazar Hotel built in 1888. The collections here are eclectic and include porcelains, furniture, Tiffany glass, paintings and sculptures. Lightner Museum also host displays of art curiosities like human hair art and a mummy. This hotel once used to be a marvel in the 1890s, always flooded with fashionable guests who used dance in its grand ballroom and used to swim in its indoor pool that was considered to be the world's largest.
Colonial Quarter
If you want to visually experience how the city of St. Augustine used to look in the 16th through 18th centuries then this living history museum is a must-visit destination for you. This once Spanish occupied town depicts the lifestyle of the long gone era of the 17th century with blacksmith and leatherwork shops and the places where hour long musket drills used to take place. There is a replica of an original watchtower, which if you climb you'll get an extensive and complete view of this town.
Fountain of Youth Archeological Park
This jaw-dropping 15 acre park that is situated near the Matanzas River is famous for a freshwater spring that was founded by Ponce de Leon in his pursuit to find the legendary and mythical "Fountain of Youth". The replica of this historic village is made on the original site. This is a working archaeological site and it also displays the artifacts that were found during the excavations. The site is full of beautiful images if you walk along the river that flows through the village and feed the peacocks. The Navigator's Planetarium here holds hourly shows that will brief you about the ancient ways of star navigation used by the Europeans – the ways that led Ponce de Leon to find this place.
Pirate Treasure Museum
This museum will transport you back to at least 300 years. The epic replica of Jamaica's Port Royal here holds exhibits of some of the world's oldest pirate treasure chests. Many valuable artifacts like 17th century daggers and swords of pirates and the remains of the shipwrecks of these notorious bandits are on display here.
Schooner Freedom & El Galeon
You can hop aboard the deck of this replica of two-mast 1900 blockade runner to hoist sails and help with the activities going on over its deck. In summer The Freedom has three scheduled moonlight cruises every week. On the other hand, El Galeon is a replica of a historical ship of the same name that carried the initial Spanish colonists to this area. El Galeon is docked at the municipal marina. The replica is authentic with seven sails and three masts and the ship is operated by 28 crewmen as it was back in the 16th century.
You will enjoy on hopping over "Red Train Tours" that take you across the city on an open air guided tour with 22 stops where you can get off, roam around and then get back on the next train to move further. One of the best things that makes touring around St. Augustine so fascinating is that on all these historic sites, interpreters and tour guides are dressed in costumes of the specific century that site belongs to. This brings the lost eras back to life before our eyes. These costumed crew people do demonstrations of colonial cooking and musket firing to give tourists an authentic understanding of the lifestyle of these historical civilizations.