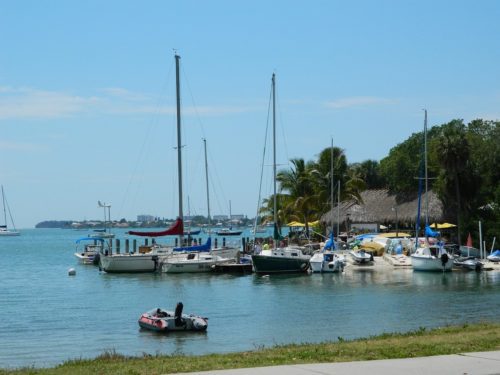 When you are on vacation it's important to have a choice of activities to relax and to be entertained all day long. Sarasota has lots to offer families, couples, and friends. In Sarasota you can keep the fun going into the night with the options written below This delightful southwestern coastal city is a great place to have all day fun. Let us know your favorite nightlife locations, in the comments section below.
Sarasota Dinner and Dancing
For those over 21, take a trip Downtown for a night of cocktails and boogieing. Get your glad rags on and visit the Ritz Carlton and Selva Grill. Popular favorites are the Grapefruit-Basil Martini and the Lido Key Margarita. If you prefer a casual evening out simply walk down Main Street and go wherever the music takes you.
For a night of hard-core dancing, put on your dancing shoes and head to the Tavern on Main, Smokin' Joe's Pub or Casablanca Hookah Lounge. You can always tell how good a place is by how crowded the dancefloor is. If it's busy get in there and dance to every beat.
Sarasota's nightlife is a well-kept secret in Florida. While it doesn't have the bright flashing lights of Miami, it does not disappoint because there is something for everyone. Sarasota is a fun night out with tasty cocktails, delicious cuisine, and dancefloors with a variety of music. Wherever you choose to go, you're sure to have a great time!
Sarasota Festivals
In Spring the city welcomes a wave of movie fans and celebrities at the Sarasota Film Festival (SFF).   Admission tickets range in price depending on what you want to do and see. The SFF has exclusive film viewings, a panel session with industry professionals and star-studded parties.
If classical music is more your style, then you are in luck because in June the Sarasota Music Festival will be in full swing. For three glorious weeks, you can experience an array of performances from internationally recognized musicians and local talented artists. As an attendee, you can see the rising stars of the Classical World of Music.
St. Armand's Circle in Sarasota
This shopping center and beautiful beach hub by day turn into a relaxing evening of dining, once the sun sets.  If you are a seafood lover, pizza fanatic or have a hankering for Cuban food, St Armand's Circle has it all. Before you have dinner, take a quick tour around St. Armand's Gallery, Tuesday – Saturday it is open until 8 pm.
Sarasota Golf
Practice your swing, as the sun sets at the driving range of Evie's Family Golf Centre. It is open until 11 pm Wednesday thru to Saturday. As well as a driving range they have a traditional family fun golfing experience. Complete the 18-hole miniature golf course to see if you can beat the Par 40 on this exciting adventure.
Comedy Show in Sarasota
After a relaxing day in the Florida sunshine, continue your enjoyment with a night of eye-watering, side-splitting fun with a comedy show. The Van Wezel Performing Arts Hall has intermittent comedy shows, depending on national tours. But the McCurdy's Comedy Theatre, which was established in 1988, offers regular shows from Wednesday thru to Sunday. Lets us know which hilarious comedians you see.
If you require advice on where to stay during your time in Sarasota, check out our 'Preferred Sarasota Florida Hotels.'