Florida's coastline boasts some of the most beautiful beaches in the nation, and a family trip to the state would not be complete without some time on the sand. While many of our beaches can be considered kid friendly, there are several gems which stand out as being particularly good for children. Considerations have been given to features such as:
Amenities
Related activities
Safety concerns
Overall popularity
Based on these points, the following beaches are considered the 10 best Florida beaches for kids, and should all be looked into for any family that is planning a vacation.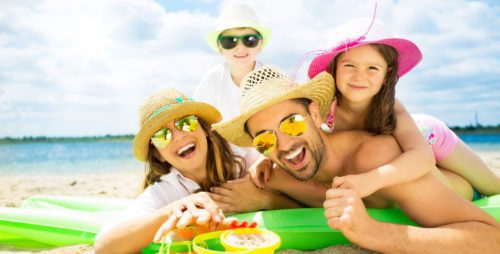 Families visiting the Tampa and St. Pete's area will want to plan a day at the beach at Fort De Soto Park. The park itself spans over 1,000 acres and has close to three miles of sugar white beaches along the shore. As the park also encompasses camp sites, historical displays, and other recreational facilities, parents are sure to be able to find rest rooms, shade, and park personnel with ease. Further, the maps for the park are very comprehensive and allow parents to plan activities or proximity to amenities.
As one of the state's premiere parks, Fort De Soto is the host to a number of other activities should children need to step out of the sun. This includes:
Walking trails
Playground equipment
Tours of historical sites
Cultural displays
Fishing
Food and concessions
While the entirety of the park is more than a day trip, parents can still take advantage of the quieter North Shore beaches for relaxing and swimming. In season life guards are on duty for all the swim areas in the park, but the North Shore is also host to significant sand bars that form natural tidal pools along the actual coast. This is a favorite for many families as the tidal pools also become safe places for children to experience the water and even see some native wildlife, such as sand crabs, herons, and pelicans.
Fort De Soto sees considerable traffic both on and off season, but is still considered one of the quieter beaches. Families who want some distance from the party scene and really want to enjoy the beauty of nature should frequent these shorelines and see the splendor of the wilderness with well marked modern amenities nearby.
This is another popular family destination for families visiting near the Tampa or New Port Richey area. Fred Howard Park in Tarpon Springs offers beach access to the Gulf of Mexico, and miles of sand white beaches. Park amenities include restrooms and beach showers, as well as picnic areas that can be reserved in advance. Designated swim areas do have life guard in season, but the slow slope of the coast line also gives ample low water areas for kids to play.
Along with playing in the sand and the surf, Fred Howard park also has activity spaces for :
Sports
Playground equipment
Fishing
Park maps outline the locations for different attractions and amenities, making it easy for parents to plan a good outing with kids. For adventurous families, there are also bike rentals that can allow for a leisurely cycle along the causeway, and a visit to the butterfly gardens.
While the related activities do make Fred Howard Park fun for all ages, just spending time in the sand is a popular activity for many families. Although Fred Howard Park sees consistent traffic throughout the year, it is very popular with kids and their parents, providing a warm and welcoming environment.
For families staying a little closer to the Sarasota area, a visit to Coquina Beach could provide an ideal day in the sun. This popular but well spread out beach is located on the north end on Anna Maria Island, and receives consistent traffic, especially in the on season. Although it is a popular beach, parents will also find that this means there are plenty of amenities and in season personnel at hand.
Some of the features that are very kid friendly along Coquina Beach include:
Plenty of restrooms and changing areas
Beach showers
Playgrounds
Shaded areas
Food and drink stands
Another exciting feature about Coquina Beach is that it dolphin sightings are common along the coast. Further, children can also explore the mangroves along a wooden walkway that spans the nearby brackish pools.
This is often considered one of the quieter beaches in the Sarasota area, primarily because the slightly coarser sand that is found in this one area. However, this also means that families can find some peace and quiet for a day at the beach, without missing out on the rest that the shore has to offer. Turtle Beach does not have guard duty, but it does offer a wide assortment of sea shells and surf rocks for families who like to walk the shore.
Restrooms and showers are available on site, as are places for picnics and a small playground. One of the biggest pros for many families is that there is free parking for this beach and frequently more spaces available. For a pleasant respite away from the activity in downtown Sarasota, a day at Turtle Beach can be just the thing for families who want to relax.
Nestled between Venice and Fort Myers, the Manasota Key beaches can provide a fun time for families with kids of all ages. Englewood beach is extremely popular, as it is located just off the main strip for eateries, concessions, and other shopping. This can allow for older children to explore some of these adjacent shops, while never venturing too far from the beach blanket.
Younger kids will find that there are playgrounds up near the boardwalk area, and many other children who visit this beach as well. Parents will be pleased to know that restrooms and beach showers are located all along the access points. Although there are no lifeguards at Englewood beach during any season, the beach does have a considerable shallows which can allow for good low water play. Adventurous families may wish to walk the entire length of Manasota Key from Englewood Beach down to Stump Pass Preserve, where manatee and Blue Heron sightings are frequent.
Located just outside of Tampa, Clearwater Beach is a popular destination for families and kids. Clearwater Beach boasts an extremely wide sandy shore, which provides for ample room to stretch out and play no matter how many other people are also at the beach. Along with this large tract of white sand, Clearwater Beach is also home to a considerable boardwalk with many activities, eateries, and other concessions.
This section of the shore is well guarded, with public and hotel based personnel who patrol the area. This also makes it a very safe section that is well loved and visited by many families.
Heading further south along the gulf, many families find that Fort Myers Beach provides a wonderful place to relax and explore nature. The public beaches and preserve parks in this area are all open to everyone, with access point along the stretch of the key. Along with busy beach areas and many concession stands and shops, Fort Myers Beach is also close to Lover's Key State Park and the Estero Bay Aquatic preserve. This can provide adjunct activities for children.
Along the beach area, kids will find that many families spend time in the surf, especially as sandbars in along the south create good tidal pools for shallow water swimming. With a nearby boardwalk, there is also plenty of activity in food and shopping, and public restrooms and showers can be found throughout Fort Myers Beach.
For visitors along the panhandle, Fort Walton Beach can offer a pleasant outing to the shore. Although the beach is technically located on Okaloosa Island, it spans the entire length of the barrier island, and allows visitors to experience the brilliance of the Gulf Coast. This stretch of beach has restrooms an beach showers, as well as some playgrounds and picnic areas, but is also located close to many shops and restaurants.
Kids will also be excited about the Gulfarium Marine Adventure Park and the expansive fishing pier that stretches well into the gulf. This is a popular destination for many families, as it is a safe and inviting city with a great beach area for kids.
Captiva Beach is essentially an extension of Sanibel Island, but the shoreline along these keys is ideal for families with kids. With several preserve parks in this area, the beaches are well monitored, with facilities including restrooms, showers, and picnic areas located throughout. These shores hold a wide variety of shells and marine life that will delight younger and older children, while the wide white beaches can allow for peace and privacy on family outings.
Rounding out the 10 best Florida beaches for kids, we end up on the east coast of Florida, and Daytona Beach should not be overlooked by families. Although it is known for a rowdy environment during bike week and spring break, Daytona Beach is ultimately family oriented. With several miles of public beaches that feature on season life guards, restrooms, and beach showers, Daytona Beach also has an extensive boardwalk with games and activities that are geared towards all ages. This can make a day at Daytona Beach an exciting excursion for parents and kids, whether they are in the water or on the land.