Florida is famous for a lot of things – sun, theme parks, and golf just to name a few. But it's also a state that is filled with amazing getaways for those looking for some romance. Whether you're heading to Florida on your honeymoon, your anniversary, or just want to take that special someone to a place where you can make some romantic memories together, Florida has plenty of options.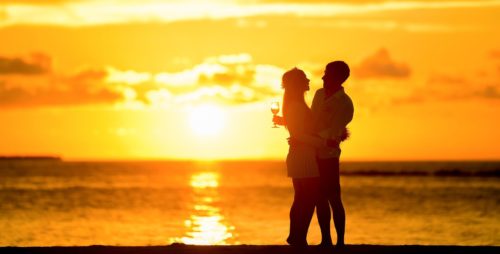 Simply put, not only does Florida have great seafood, sunshine, and fun – it's also for lovers, and when you combine the miles of beautiful beaches with the various getaways and resorts here, it's hard to ignore the romance.
With that in mind, here is a look at some of the top romantic getaways you can find in Florida. Check them out and it's likely that you'll find the perfect one for you and your special someone. These fifteen options are just the tip of the iceberg, however. From resorts to snorkeling to horseback rides on the beach, Florida really does have something for every couple.
The Ocean Key Resort And Spa – This amazing resort offers literally everything you could want, and once you check in you never have to leave to experience everything Florida has to offer. The getaway is located in Key West and includes private cabanas by a pool that is right on the water. You can enjoy sailing, snorkeling, or relaxing pedicures at the spa. The guests only Liquid Lounge pool bar provide you with the right cocktails for romance, and each room has a private balcony, whirlpool tub, and amazing ocean views. It's located nearby all the great nightclub and dining spots on Key West, but there's plenty to enjoy just by staying in as well.
Vinoy Renaissance – The Vinoy Renaissance St. Petersburg Resort and Golf Club has an incredibly long history, dating back to the 1920s. That's apparent immediately, and the sight of the hotel instantly conjures up feelings that you're walking into history. The amazing architecture includes a grand ballroom, and Marchand's Bar and Grill offers the chance to have one of the best romantic dinners you can find in the state – without ever having to leave the resort.
Lover's Key – This isn't a resort, but instead is a state park located near Fort Myers. It's famous for its beautiful white sands and for the abundance of manatees, dolphins, and other wildlife located here. You can plan a full day of just spending time with each other here, and the beauty is breathtaking. Make it one of your stops during your visit – you and your special someone won't regret it. To learn more about this park, check out the website.
St. George Island – This is a full island's worth of romance. It offers a chance to escape from the crowded city and the noise and relax underneath the stars. You'll feel the ocean on your face and be able to eat oysters so close to the source that you'll never taste them the same way again – the island is home to several great oyster shacks ready to help set the mood.
WaterColor Inn and Resort – This beautiful resort is located on Santa Rosa Beach and provides quick access to the white sands. Rooms face the beach and provide stunning views, and you can also access an inland lake for kayaking together. It's also possible to book beach chairs in advance, making it easy for you and your lover to enjoy the beach together without stress.
The Sundy House – If you want something a bit smaller, look no further. There are only 11 rooms and suites located here, and it provides guests with an acre of amazing gardens including 500 species of plants and flowers. You can enjoy brunch at a café table located within the gardens themselves, access the freshwater swimming pond, or just enjoy the nearby Atlantic Avenue with all the shops and restaurants located there. This is a perfect example of 'private' getaway.
The Everglades – Florida is famous for this 35,000 acre refuge, and spending a day in the Florida Everglades is one that you won't forget. You'll see a huge assortment of wildlife here including 189 bird species, 200 fish species, and a wide range of mammals. There are resorts located nearby, and spending a few hours within the Everglades is a great way to capture that romance you're here for. Plenty of accommodations are located nearby if you want to stay for another visit, but just stopping off here is a great way to start any romantic vacation.
Waldorf Astoria Naples – Romance is the key focus of this stunning resort. You'll be able to access 3 miles of white sand beaches as well as a beautiful pool that is for adults only. Dining options include the on-resort Strip House, with a romantic ambiance and to-die for meals and deserts. Suites have wonderful views, and you have direct access to the Gulfside beach by walking through a tunnel made from vines and mangrove branches. Just the walk to the beach is filled with romance here.
Palm Beach – Palm Beach offers the same ocean views and beautiful white sands that other beaches offer, but it's also home to what's commonly called the "Rodeo Drive of the East Coast" – Worth Avenue. You'll find all the luxury retailers you could want here, and spending a little time shopping together is a great way to take a break from the other activities for a short while. It's worth checking out for any couple, and with dining and accommodations located here as well it can turn into the perfect place to stay, too.
The Palms Hotel and Spa – With 251 rooms that were recently renovated, a close proximity to Miami, and lush gardens filled with palm trees and tropical plants between the building and the beach, The Palms offers a great getaway for couples to enjoy. The outdoor terrace at Essencia offers a place to eat wonderful, freshly sourced meals while taking in the gorgeous view, too.
Ameila Island – This island offers beauty that is hard to match, even in Florida. Miles of nature trails and beautiful beaches offer plenty to see together, and you can also book horseback rides to create a memory that will last a lifetime. The island is also home to "Salt", a 5 Diamond restaurant that offers locally sourced meals you have to taste to believe. Best of all, there's a Ritz Carlton located right on the beach so you can spend more than just a few hours here.
Sunset Key Cottages – Instead of a hotel, why not go for true romantic privacy? Located on Sunset Key, you can rent one of 40 private cottages that are themed in the Old Florida style, with large porches overlooking the sea and kitchens that are already stocked for you. No cars are on the island, and some of the cottages even have their own private pools. A restaurant and spa are located on site, and the rest of Florida is just a ferry ride away. Best of all, you can even arrange a private romantic dinner on the beach for two.
St. Augustine – Want old-world romance? Look no further than the country's oldest city. St. Augustine is filled with history and is a key part of the Historic Coast. You'll find great shopping, plenty of dining, wonderful accommodations, and can even round it out with a romantic horse-drawn carriage ride for two.
Steinhatchee Landing – This resort offers a number of cottages tucked into the Florida wilderness for maximum privacy and maximum romance. Cottages include Jacuzzi style tubs, private grills, gas fireplaces, and more. You're just 3 miles from the Gulf, and there's great dining to be had here as well. And if you're really serious about creating a memory, the resort has a private chapel that is perfect for unforgettable weddings.
The Setai – Located in South Beach, this hotel has a long history dating back to the 30s but has been completely renovated to provide modern amenities. Rooms have stunning rainfall showers and black granite tubs and guests are able to access one of the best spas in all of Miami. The location also makes it easy for you to head out on the town for great dancing and dining.
The wonderful thing about Florida is that no matter what your specific definition of romance is, there's something that will match it perfectly. Whether you're looking for moonlit walks on the beach together, a private cabana on the ocean, or a meal from a world-renowned chef, you'll find it in Florida.
Take a look at the destinations above or keep looking into other options. Don't be afraid to combine multiple experiences, either. Building the perfect romantic vacation isn't hard to do, and planning it is half the fun. There's a reason people keep coming back to Florida for romance, and once you experience what it has to offer lovers you'll likely be ready to return as well.