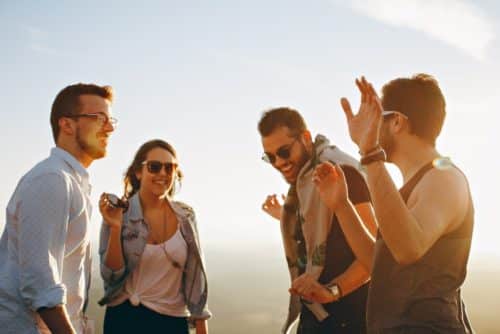 As the season changes from Fall to Winter, there is no reason to stop going outside and enjoying the natural world on your doorstep in Gulf County. Throughout our coldest season, you still don't need to wear your coat. There are plenty of fun activities and events to attend. Here are some upcoming events to keep you happy this winter.
Leave 2018 behind at Cape San Blas Polar Plunge
At 10 a.m. on January 1st you can ring in the new year with a refreshing dip in the water at Cape Palm Park. 2019 will the 3rd annual event and each year it grows. Is it time to start a new family tradition?
Do you have a great Oyster dish?
The Annual Oyster Cook-Off returns to downtown Apalachicola for its 9th consecutive year on January 18th and 19th. This great community event, held at Riverfront Park, offers a range of activities from an art auction, oyster tasting, and 5K run. All proceeds are donated to the local fire station, so however ,you choose to get iinvolvedit is all for a great cause. If you have a great dish you can be part of the famous oyster ccook-off for more details click here.
Weekly Bingo Fun
Every Monday you can spend your evening playing one of the oldest and funniest game around, Bingo. You may even win some money! A jackpot of $250 is available at John C Gainous VFW Post, from 5:30pm until 7:30pm. If you are feeling lucky this is the place to be.
Be creative in Gulf County
The Artery Studio offers weekly classes for adult and kids. If you and your family want to create a souvenir to take home to remember your trip then visit The Artery Studio for a drop-in session on a Wednesday or Friday afternoon. Alternatively, check out one of their adult classes which includes papermaking crafts, basket weaving, stained glass workshops and more.
Evening Entertainment
During Winter, the Scallop Republic, is the place to be thoroughly entertained. Located on Cape San Blas Road, you can enjoy live music with one of 12 Florida beers available on tap every Thursday, Friday and Saturday from 7 p.m. until 10 p.m. They don't serve food, so either eat before or take your dinner with you. If you are free on the 2nd or 4th Tuesday of the month you can take part in teir official darts night.
Event for BBQ lovers
Visit the Butts and Cluck Cook Off, January 26th-27th for the regional championship BBQ cook off. The day will be full of fun events to watch and you can eat lots of tasty pork and chicken treats. The winner of this event will join the Jack Daniels Championship with a chance to win big money, so competition will be fierce! You can enjoy this spectacle at Battery Park.
Blues in the Lot
On March 23rda Blues Festival is taking place at Port St Joe. The event is free and begins at midday. The line-up includes Grammy nominated Brandon Santini and many other local and regional Blues and Folk artists. There will also be craft, food and beverage stalls.
A Woofing Good Parade
On February 23rd, Downtown Apalachicola will host the 9th Mardi Gras Barkus Parade. This unique event is your chance to see the local canines and their owners have some magical fun. The festivities begin at 11 a.m. Throughout the day there will be plenty of activities to enjoy including live entertainment, dancing, artisan stalls and a doggy fashion show. To find out where the parade begins click here.
See what else in happening this winter season: