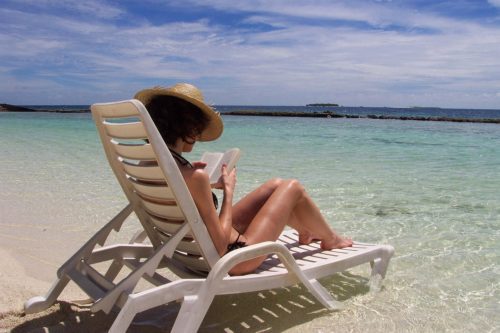 Do you look forward to going on holiday and reading a good book? For many of us, this is the only time that we actually sit down and turn the page, which is a shame because reading has so many wonderful benefits.
What are the benefits of reading?
Researchers have discovered that reading stimulates the brain, reduces stress and increases intelligence. Isn't those great reasons to read more? So, not only do many books create a great way to escape the day to day comings and goings of life, they also provide readers with new vocabulary and improve writing skills. Reading a book stimulates the brain in a similar way to how jogging is good for your cardiovascular system. So, why don't we do it more often?
If you love Florida or reading, challenge yourself! This year, see how many of the below books, you can read and see how much more relaxed you are by December.
Here are the 32 books. We have organized them by genre so that you can read based on your mood. All of the books are either set in Florida or are about the Sunshine State.
Classic Fiction Books
1. Their Eyes Were Watching God by Zora Neale Hurston
2. The Yearling by Marjorie Kinnan Rawlings
3. Swamplandia! By Karen Russell
Historical Fiction Books
4. A Land Remembered by Patrick D. Smith
5. Cross Creek by Marjorie Kinnan Rawlings
6. Killing Mister Watson by Peter Matthiessen
7. Last Train to Paradise: Henry Flagler and the Spectacular Rise and Fall of the Railroad that
Crossed an Ocean by Les Standiford
8. The Woman at the Light by Joanna Brady
Crime/Mystery/Thriller Fiction Books
9. Darkly Dreaming Dexter by Jeff Lindsay
10. Stormy Weather by Carl Hiaasen
11. Skin Tight by Carl Hiaasen
12. The News in Small Towns by Iza Moreau
13. Lucky You by Carl Hiaasen
14. Mid Ocean by T. Rafael Cimino
15. The Deep Blue Good-by John D. MacDonald
16. Crazy in Paradise by Deborah Brown
17. Brigands Key by Ken Pelham
18. Hell and High Water by Anne C. Petty
Children's/Teen Literature Books
19. Because of Winn-Dixie by Kate DiCamillo
20. Hoot by Carl Hiaasen
21. Strawberry Girl by Lois Lenski
Comedy Books
22. Tourist Season by Carl Hiaasen
23. Paradise Dogs by Man Martin
Drama/Romance Fiction Books
24. Stittsville by Susanna Daniel
25. Turtle Moon by Alice Hoffman
Non-Fiction Books
26. The Everglades: River of Grass by Marjory Stoneman Douglas
27. The Orchid Thief: A True Story of Beauty and Obsession by Susan Orlean
28. Miami by Joan Didion
29. Shadow Country by Peter Matthiessen
30. Tales of Old Florida by Frank Oppel
Happy Reading!