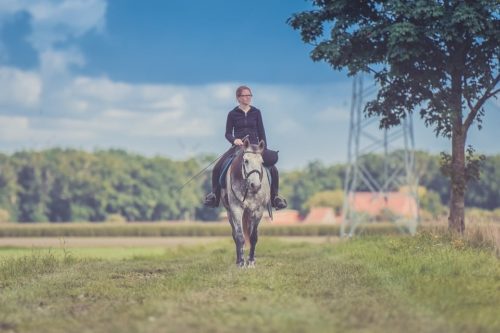 Attention all riders! With over 700 riding trails throughout the state, Florida is a great location for all horse lovers. There is plenty of choice for any experienced or wannabe equestrian. We have narrowed down the search to include some of the best rated riding trails, with 3 to 20+ miles of trail.
Easy Horseback Riding Trails
Woodpecker Trail
Location: 18738 Southeast 94th St. White Springs FL 32096
Within the Big Shoals State Park in the North of Florida, you can take a leisurely trot around the 3.4 miles of paved path on the Woodpecker Trail. It is perfect for beginners. Along the trail, you can enjoy the view of a freshwater river and beautiful natural green countryside. Big Shoals State Park is also home to the largest white-water rapids in Florida, be sure to check them out after riding.  You can visit this park easily from Gainesville and Jacksonville.
Morris Bridge Park
Location: 13330 Morris Bridge Rd, Thonotosassa, 33592
If you are visiting Tampa, you can start your horse riding adventure in the nearby and gorgeous Morris Bridge Park. The park is open from 7 am until 8 pm, giving plenty of time to explore the park on horseback and complete the 7-mile multi-purpose trail.
Cady Way Trail
Location: Intersection of Aloma Avenue and Howell Branch Road/Hall Road, Orlando or you can start at Florida Square Mall, 3201 E Colonial Dr, Orlando, 32803.
In Orlando, there is an equestrian, hiking and biking trail with your name on it. The Cross Seminole trail comprises of 3 sections to create a 23-mile nonstop trail. For an adventure for beginners, you complete the 6.5-mile Cady Way Trail. If you master this trail then move onto the 14-mile Seminole Wekiva Trail
Moderate Horseback Riding Trails
If you have some riding experience and want to gallop along distances of 10 miles or more keep reading to discover trails better suited to you.
Caloosahatchee Regional Park North Trail
Location: Caloosahatchee River State Park, Parking Lot #3. 18251 North River Rd, Alva, FL 33920.
This trail is a moderate 11.6-mile loop located near Alva, Florida and 55 miles from Naples. The route operates on a one-way basis and this changes from month to month. Therefore, when you arrive to visit the parks office, pick up a map and ask the preferred direction for that day. The park is open from 7 am until 7 pm.
Lake Myakka Trail
Location: Myakka River State Park, 13208 State Road 72, Sarasota, FL 34241.
Within the beautiful Myakka River State Park, a moderate 10.2-mile trail is available for horseback riding. You can admire the wildflower-covered plains and incredible pinelands and wild marshes. The park is open every day of the year, from 8 am until sunset. If you are staying in Sarasota, you can access the trail with an easy 20-mile drive via I-75 South.
Powerline Trailhead
Location: Pellicer Creek Conservation Area, 430 Princess Place Rd, Palm Coast, FL 3213.
On the East coast between Daytona Beach and Jacksonville lies two loops, which can both be ridden to complete a 10.3-mile adventure. They are the White Blaze and Red Blaze Trail. The terrain varies throughout the trail and includes a hardwood bridge, paved paths, and natural soled grounds. Keep your eyes open for the marvelous south-eastern American kestrel and the endangered gopher tortoise. Both have been spotted in the area.
Advanced Horseback Riding Trails
There is only one trail classed as 'Hard' according to All Trails, who specialize in providing detailed information about 50,000+ trails around the World.  The advanced trail is the Alafia State Park Trail at the Alafia River State Park. It is located just over 30 miles south-east of Tampa and has 20+ miles of diverse trails. It has 4 marked horse trails to provide variety. There is a perimeter loop, a north to the south trail, an east to the west trail and island loops. See if you can master them all!